Seeds sprout at Ventura High School
A rundown of the Agricultural Business pathway
Ventura High School's Agricultural Business pathway is a program that is made up of three classes. These classes are agricultural biology, landscape design and floral design. They are taught by agriculture teacher Amy Lewandoski, who has been teaching at VHS since 1990.
Agricultural Biology's credits are equivalent to any other biology class according to the A-G requirements. The class not only teaches about the biological aspects of agriculture, but also how to grow food and other information on the actual process of cultivation. Students work in the class's garden where they grow vegetables and flowers from seeds. 
Landscape Design counts as a fine or applied art credit. Lewandoski said, "Its purpose [Landscape Design] is to teach the elements of landscaping, as well as plant care and maintenance. It also teaches the basics of landscape design." Landscape Design students apply their knowledge on the VHS campus landscape. They also create designs for the Ventura County Fair.
The Floral Design class has similar design principles to the Landscape Design class but with a particular focus on flowers, unlike the living plants of Landscape Design. The class also creates floral arrangements. These arrangements are designed for particular events such as weddings, funerals, parties, etc. In addition, arrangements are created for the banquets of VHS sports team's and other school sponsored events (such as homecoming or graduation).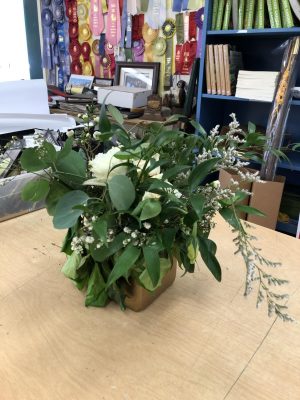 Another component of the Agricultural Business pathway is the FFA. Originally the Future Farmers of America, it is now officially called the National FFA Organization. Agricultural Business pathway students are required to be a part of the FFA. According to the FFA, "FFA is an intracurricular student organization for those interested in agriculture and leadership. It is one of the three components of agricultural education."
Lewandoski said, "The FFA program teaches [students] leadership. FFA is the integral youth leadership organization that all Agricultural Business pathway students are involved in."
Senior Nicolas Aoki, who takes Floral Design during second period and is an FFA member, said, "FFA is a really good experience to meet new people and do things you haven't done before."
Lewandoski said, "I think that the [FFA] program provides students with knowledge about an industry that is largely misunderstood. I think that it is largely looked down upon. Hopefully it gives [students] knowledge and desire to work in the [agricultural] industry and support it even if they don't necessarily work in it."
Among all the agricultural business pathway classes, there are approximately 155 students enrolled. The classes are all taught between periods one and five. Aoki said, "I think that the class [Floral Design] is really good and it teaches you a lot of life skills. It teaches you things that you will be implementing at work in the real world."
Lewandoski said, "I would encourage students to sign up [for Agricultural Business pathway classes] because these classes all count towards graduation. If they enjoy working with their hands or enjoy working outside, this is a good pathway for them to belong to."