Opinion: Euphoria left a lot of things unanswered, let's talk about it
The finale of season two as interpreted by three high school journalists
Many VHS students have watched the hit HBO MAX show, Euphoria, and with that in mind, there are so many mixed emotions around the stir regarding season two's final episode. For those who have not yet watched the finale, spoilers are ahead so stop reading if you have not yet watched, or do… Honestly, we're just letting you know how we, as juniors in high school, interpreted the little things that were left unsaid, and the things that were too on the nose to fully comprehend.
The finale allowed for a plethora of emotions to run through all of its viewers' minds. We think most will agree that the writing of this episode felt rushed, disorganized and overall incomplete. This episode was pretty messy. It's as if nothing from the season came together. When asked about it, senior Nico Frias said, "It honestly made me mad." Childish rumors regarding feuds within the cast as well as writer Sam Levinson, have affected the overall work ethic which has made the show almost unenjoyable to watch. As students who have to work with people, we don't necessarily love, it seems futile to act upon negative emotions and allow those emotions to mess with a production that many viewers enjoy and steadily wait for every Sunday.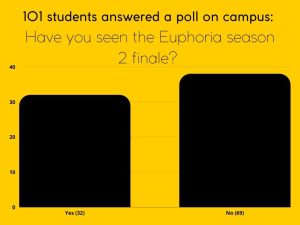 It is rumored that Barbie Ferreira, who plays Kat, had on-set tension with the creator Sam Levinson. According to TV Insider, there are reports of long and unhealthy work days on set. Fans believe that this gossip is the reason for Kat's little screen time. Kat's character was complex and developed in the first season. We were given insight into the evolution of her cam girl career, her getting comfortable in her sexuality, how her relationship with Ethan (Austin Abrams) blossomed, and her feelings about her friendship with Maddy (Alexa Demie). In the second season, most of the content we saw for Kat was of her dwindling relationship with Ethan. Ferreira told Insider, "I've seen so many different things and a lot of it is untrue, and some of it is kind of like mundane little things." So, if the rumors are false, what is the reason for Kat's dying storyline?
There was circulating talk that Zendaya, who plays Rue, and Jacob Elordi, who plays Nate dated around 2018 through 2020 which was rumored to have ended badly causing the pair to have minimal scenes together during season two. This is allegedly the reason for the minimal scenes between Schafer and Elordi as well.
As stated before the writing of this episode was shoddy and oversimplified and the writer(s) missed a lot. A large plot hole I'm still extremely confused about is Laurie (Martha Kelly) and the money that Rue (Zendaya) still owes? It feels as if that little storyline was forgotten, and if we aren't getting a third season until 2024, it shouldn't be forgotten. It was totally looked over in the final episodes and that was disappointing, I mean do not get us wrong, I'm extremely happy for Rue and her sobriety during the last episode (and for the rest of the school year) as she narrated, but she still owes over $10,000 to this random drug boss lady (GIRL POWER!) that we just have not seen at all. When asked her opinion about this specific topic, senior Ella Girtsman said, "There was that plot hole of her staying at Laurie's house and it never really stated how long Rue stayed there, and after she left, there was too much left for our interpretation, like how she got home and what was going on behind that door that was scratching." A lot of fans, and maybe some who aren't avid Euphoria watchers will agree that this was just confusing.
This might shock a few of you, but we loved Faye (Chloe Cherry) in this last episode. Throughout the season, we (as viewers) are given little snippets of her and her growth and connection with Ashtray (Javon Walton) and Fezco (Angus Cloud). As we progress throughout the season, we see her grow close with the two that we viewers have grown to love. She went from Custer's drug-addicted girlfriend to Fezco's roommate who we see steaming his shirt before Lexi's (Maude Apatow) long awaited play. We think that we can all agree that it was an unfinished ending.