What happened to the VHS website?
Brand new district-wide web design is soon to be launched
When students or parents search "Ventura High School," they may have a hard time finding the official school website. This is due to the fact that the site is currently undergoing renovations. In fact, all district websites are being updated. The main purpose of these changes is to improve navigation and accessibility for families, but also to enhance updating experience and admin activity for staff. During these updates, the Ventura High website is still accessible through the official VUSD website under the "schools" tab. 
"The District has embarked on a major redesign of all school and district websites. We are in the middle of that process. We are optimistic that Ventura High School's new website will be ready the week of May 16, 2022," said director of communications, Marieanne Quiroz. In her article located on the district website about the new changes, Quiroz explained that changes will include new web designs and icons, better accessibility, streamline navigation and also easily accessible school calendars/news on each homepage. 
This redesign, according to Quiroz, was launched because the sites previously were, "Very difficult to update, and there was inconsistency in language and branding between the schools and the district." The new website aims to be as user-friendly as possible, for students, parents, and staff. "The new school and district websites will provide a more consistent and easier to use communications tool for our students, staff, and families. [They] will provide our students and families access to important information they need quickly," said superintendent Roger Rice.
Students are having a hard time with the current workaround that requires them to access the site strictly from the district, however. "Lately if I try to find something, I have no idea where to go or where to find it," said junior Marlen Olea Lazaro. "I have not heard anything […] from the new site. I didn't even know we changed it or anything like that until I logged on to check." Students, for the most part, have been unaware of these updates, so navigation during this time has been difficult.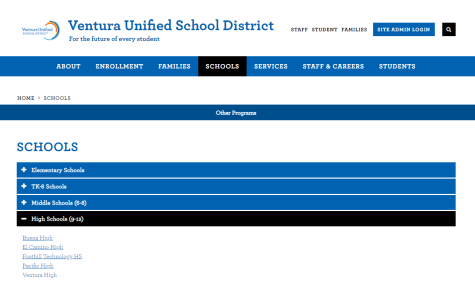 As stated in Quiroz's article, the redesign has been in the making for around two years now. "A lot of work went into the new navigation, look and content for the sites. We believe the sites will be more accessible and easy to use both by those looking for information and those that have to update the websites," she said. "Please remember this is only Phase 1 of the website project.  A website is never 'finished.'  We will continue to add in new content, make adjustments as needed, and continue to enhance the users' experience."