What is the rationale behind Ventura High School campus security cameras?
An overview of security cameras at VHS
The Ventura High School campus has been home to security cameras for many years, with its current system in place since 2019. But what do the cameras do? How does the VHS administration use these cameras?
Assistant Principal Mara Clobes said, "There are at least 20-25 cameras on campus. They do not have audio." The cameras are always on and recording at a resolution of 1080p, with all administrators having access to their footage.
The VHS administration utilizes security cameras in several ways. Principal Marissa Cervantes said, "We´re able to refer to them if we are conducting investigations, if we want to support law enforcement with maybe calls. If there's an issue detected we´re able to refer back to them. We are able to see what the trends are and collect data for investigation purposes. We do also use them if there's a need based on a particular situation. The cameras are in areas for added security and supervision in order for us to maintain a very safe activity or event."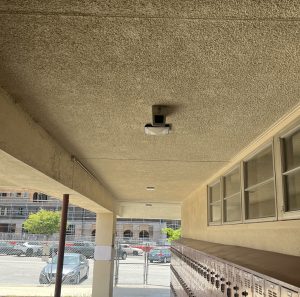 Security cameras are placed throughout the VHS campus, mostly concentrated in high traffic areas (areas with a high flow of students and staff). However, there is no designated person constantly supervising the cameras' footage.
Cervantes said, "I think the primary purpose [of school security cameras] is safety. We don't have someone on them 24/7 trying to be like ´gotcha.´ The camera can reveal some additional information to allow us to address it or if we have a student discipline issue, we can monitor that to place staff to provide the best supervision. It´s used to enhance our safety protocols not to try to snag anyone or catch them in an act. We don't have time to be able to place one person [to supervise] due to all the areas of responsibility that we have."
Sophomore Angelica Matehuala said, "There are some cases in which [campus security cameras] could be useful, so long as they are not in every part of the school or private areas like the restroom."
Cervantes said, "All administrators have access [to the cameras]. Our school resource officer has access. We have also placed campus supervisors to monitor them based on what the game plan is for an activity or an area of concern that we want to monitor and make improvements. They are helpful. We have seen that in some of the incidents that we´ve had to deal with like the intruder earlier in the year."