A walk to look at chalk
2022's chalk festival showed off VHS art student's creative talent
VHS' annual chalk festival was held on May 11 and 12, 2022. The festival allowed students to use chalk and recreate a painting or picture. Art students from all grades participated to showcase their skills. Art teacher Lauren Minadeo provided a selection of photos and paintings for her students to recreate during the chalk festival. 
The chalk festival has been running for about 30 years, only being interrupted by COVID-19 school shutdowns. Around 60 to 70 art students ended up participating in the chalk festival, choosing to either work alone or with a group/partner. Pieces ranged from colorful kaleidoscopes to portraits of people.
Minadeo said, "They are my two favorite days of the year. It is such a happy time, the students love it so much and they love to get out there and be with their friends, create art, making a mess, getting all dirty and being out in the sunshine. It is just so fun to see what everyone creates."
Minadeo said, "It is a fundraiser for the art department so we take orders from all over the school district, teachers from elementary, middle and high schools send us orders from all over. We get a wide variety of what people are creating from dog portraits to reproductions of fine art pieces, to portraits of grandkids, or grandparents." The drawings are not counted for an art student's grade.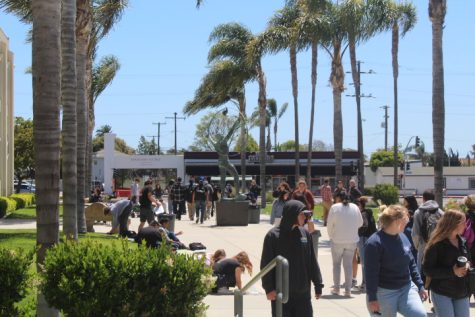 Junior Ella Bartlett said, "We have been in art class practicing with different chalks for the last two or three weeks just to get a feel for what we are going to use. We have been working on this since 8:00 a.m this morning, we are working on it as a trio." 
Minadeo said, "[The time it takes to complete each project] varies per student, of course some students finish faster than others, I start prepping long before. But the students start prepping their pieces maybe a day or two before. They don't usually start drawing their piece until the day we start. Usually, it is expected that they complete it within those two days but sometimes if it is a super big project then they don't finish it until after. I have a student who started on their piece about two weeks before because it was super complicated."