VHS campus vandalizations come as a result of Powderpuff game
Crosstown rivalry between Buena and Ventura High Schools cause vandalization
Discovered on the morning of May 31, several vandalizations were made on the Ventura High School  campus, including "BHS" being written on windows and the Atoms for Peace statue painted blue. This followed the Powderpuff game on May 27, where VHS played Buena High School. The game ended in a tie, as well as a fight breaking out, with disagreements of who truly won the game. The Powderpuff game, along with the traditional Buena versus Ventura Football games in the fall are two major sports events between the rivaling teams. 
VHS Principal Marissa Cervantes said, "In all of our interactions with them [Buena High School] throughout the year we haven't had any type of vandalism on our campus since I've been here this year but this is the first incident since then." May 31, when students came back to school after a holiday weekend, campus security was working to clean up the vandalism and restore the previous state. Cervantes said, "We had a late start day and we were able to tackle the cleanup pretty quickly, allowing students to come on campus and not be distracted or interrupted by the vandalism."     
This is the first known instance of vandalism during the 2021-22 school year. There are suspicions that students from BHS are responsible for the actions of vandalization, no specific group or person has been questioned. The 11 year streak of Ventura victories in the annual Buena vs. Ventura football game was broken , with Buena winning for the first time in more than a decade at the 2021 game.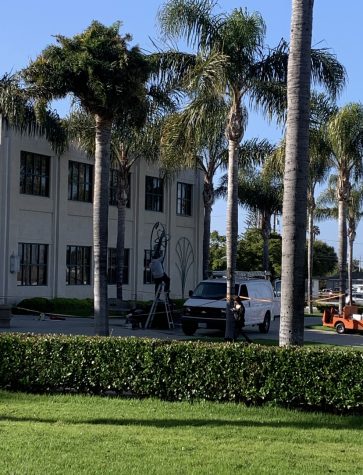 "We came early in the morning around 6:45. We were making rounds and we noticed the school being vandalized," said campus supervisor Jaime Gallegos. "I've been working for the past twelve years and I remember this [vandalism] happening before. It's not the first time. One year they burned a patch," Gallegos said. 
"Like I said, we always make sure to get here early. We always make rounds, make sure we dont see anything out of the ordinary. Right away, we called our admin and notified them. We call our custodian. You know, we call the district so they can come and help us out. You know, removing the paint," Gallegos said.