Girls track quad trample the previous 4×400 school record
VHS girls 4×400 group completed and successfully broke a school record
at the CIF Masters Meet and
CIF-SS Division 2 Track and Field Finals
On May 14, Ventura High School Track and Field competed at the CIF-SS Division 2 Track and Field Finals at Moorpark College. With the girls four by 400-meter event by Ryan Mendez '23, Valentina Fakrogha '24, Olivia Mobley '25 and Sadie Engelhardt '25. Coming in third, behind Culver City and John W. North, these four girls broke the previous VHS record, with the new time of 3:55.53 seconds.
VHS Girl's Track and Field scored sixth in the meet with 30 points, while boys were ranked 19th with 10 points.
"[It felt] awesome [to break the record], we were just shocked. I was looking at the time while Sadie was coming in and thinking, like, oh my gosh, we're really going to do this. We also had a bet that my dad would give us 50 bucks each if we broke the record, and we did, so we were all really shocked," said Fakrogha.
Fakrogha first joined track during the 2021-2022 school year. She said, "I just moved here recently from LA and swam there. [I] got recruited by coach [Kory] Anderson. I used to be a swimmer, but he told me to go to track and try it out." Farkrogha does the 400, 4×400 and high jump events. She placed fifth in the girl's high jump at the CIF-SS Track and Field Finals.
"We kind of saw [breaking the record] coming, but we still had to try really hard to get it. We were close to breaking it at west coast relays; we kind of matched [the previous record], and we just knew we would break it," said Fakrogha.
"You just know everyone even though there are so many kids [on the track team], you just know everybody, and if they're ok or not, [everyone] is always looking out after you," said Fakrogha.
Mobley said, "I think [the track community is] really nice because everyone is really close, and I feel like I can talk to anyone on the track team." Mobley is in her first year of track at VHS as a freshman but began at the Ventura Tigres Youth Track and Field Team in second grade; she also does cross country at VHS, which begins in the fall.
The anchor of the race, Englehardt is number one in the country in two events; the 1500 meter and 1600 meter events. According to athletic.net, She is also second in the mile and 3200-meter event and third in the 800 meters.
"Engelhardt won [the] national championships in the 1,500 meters and 3,000 meters at the AAU Junior Olympics. [Engelhardt's] time of 4:34.18 [minutes] in the 1,500 meters broke a 33-year-old national record for a 14-year-old" according to the article "Ventura High freshman Engelhardt poised to become Ventura County's next great runner" by Joe Curly. 
"I started track when I moved to Ventura in fourth grade. I had always played soccer, but my parents told me to try out running," said Englehardt. Englehardt also does 1600 meter, 1500 meter, mile, two-mile, 3200 meter and 800 meter events.
"I think we all knew [breaking the record] was bound to happen. Coach Anderson was hyping it up ever since our first race. He knew that we could do it," said Englehardt.
"What's special about this group is the fact that not one of us are seniors. We will all be returning next year and will be trying to lower our record for sure," said Englehardt.
Englehardt said, "[The track team] has such great chemistry with each other, and I feel like Anderson really adds to that energy. He does a lot for us and never fails to appreciate and recognize us for our accomplishments. Everyone is really supportive, and it creates a healthy environment for us all to work hard and compete well."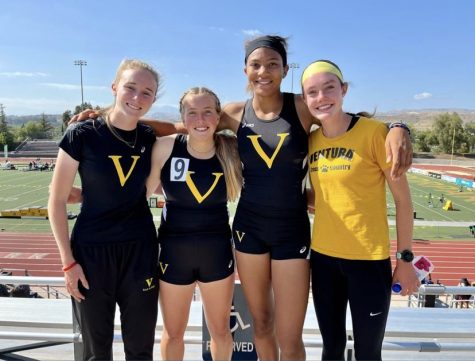 As the girls qualified for the state meet, they once again  broke the record. On May 21, the Ventura girls placed fifth, with a new top time of 3:55:32, 21 milliseconds faster than the previous VHS record. 
"Valentina Fakrogha led the girls off from outside in lane nine. Val put the girls in a good spot  and handed the baton off to Ryan Mendez, who moved the girl's team into a great position in the second leg. Olivia Mobley ran the third leg and tied her previous best split to the put the lady cougars in contention to finish in the top six. On anchor leg Sadie ran her lifetime best split and passed two teams to move the girls into fifth and the girls 4×400 relay qualified for the state championships," said Anderson in an email to teachers.
"This is the first time a girls relay has ever qualified for the state championships in the history of the school!  It's been a wonderful year for these girls and all of their teammates," said Anderson. 
Englehardt also qualified for the state meet. "Sadie Engelhardt did an exceptional job of running relaxed, and easily [qualified for] the state meet.  She looked like a pro qualifying in rounds at the Olympic trials.  She put herself in the right spot, ran as easily as she could and finished in the top six to move forward to the state meet," said Anderson.
With the new record breaking time, the girls moved on to the CIF Masters Meet on May 21. They broke the record again, with a time of 3:55:52 minutes, a millisecond faster than the previous, with this new time they qualified for the state championship meet. At the state championship meet, they did not break the record. Nevertheless, this quad plans to run again together next season.