Ventura High School Girls Tennis is serving into the new school year
Girls tennis played their third match of the season against Rio Mesa High School
The Ventura High School Girls Tennis Team played at 3 p.m. Sept. 15 at home against Rio Mesa High School. There were 18 sets in total. VHS won six out of nine doubles and three out of nine singles. They took their second win of the season with a final score of 75-67. 
Although both team's won nine total sets, it did not result in a tie. "When the teams both win nine sets, then we have to count [the] total games won. Thursday's game against Rio Mesa was like that and in the end we both had won nine sets so we had to count games, resulting in a VHS win," said VHS Girls Tennis Coach Alison Ferguson.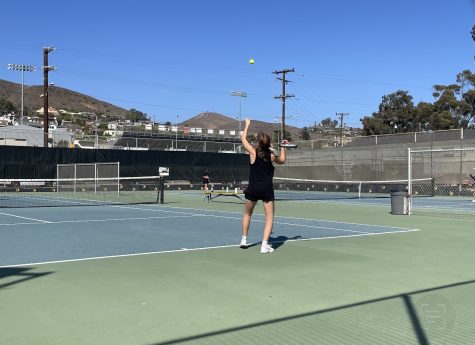 Ferguson said, "Match play begins at 3 p.m. and is usually done by 5:30 [p.m.]. A typical set takes about 20 [to] 30 minutes. The Rio match moved along pretty well so it wasn't that it lasted longer than others, it's just that it came down to the wire. We had some 6-0 and 0-6 sets, which don't take much time; it's the 7-6 tie break sets that can take 40 [plus] minutes and we had two of those. There are a few things we can work on so that next time we face them, my fingernails won't suffer."
This was the third official match of the season that the team won. "We've had four non-season practice matches (2-2) and four in-season matches (2-2). This year we're in the Channel League, along with three Santa Barbara teams (SB, San Marcos, Dos Pueblos), Rio Mesa, Oxnard, Buena and Pacifica," said Ferguson. 
Isabel Connell 25' said "I love everyone on the team honestly. And the sport is really fun in general, like the actual game is fun and entertaining." 
Ferguson is in her second year as the VHS tennis coach. She said, "This season is starting out with a great vibe.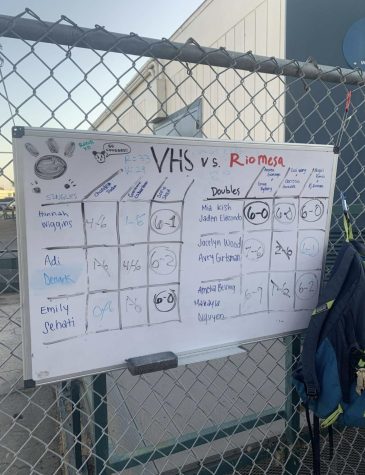 I could tell the season was going to be exciting, because there were many more players showing up to play than last year. Everyone is very excited to be on the courts, playing tennis and being with friends."