VHS welcomes families to campus for annual Back to School Night
Back to School Night returns to VHS after years of being online
On Sep. 28, the annual Back to School Night took place at Ventura High School after being hosted online for two consecutive years due to COVID-19. Back to School Night offers an annual opportunity for parents to have informative talks about student expectations and meet teachers in person. Parents followed a bell schedule that allotted five minutes for them to walk from class to class. 
Assistant Principal Mera Clobes said, "[Back to School Night] represents a chance for parents to see what their students experience here at Ventura High School, day in and day out. It is a chance to meet their teachers and to understand how the new year shapes up and what their students are learning." 
Principal Marrissa Rodriguez said, "I think [Back to School Night has] a good impact because sometimes families just do better connecting in person and it also gives them an opportunity to learn about things that they overlooked, like our school newsletter. It's kind of like a one stop shop, so they can come visit classrooms, buy merchandise [and] take care of any business that they have. It's a great night." 
The event started at 5:30 p.m. with a talk in the gym regarding the 2022-2023 school year, going over various topics such as raising funds for the PTSA and discussing campus resources offered to students. The presentation ended at around 6:00 p.m., allowing parents to go greet their children's teachers and have discussions until about 8:00 p.m.
Clobes said, "I think that it does [impact the school]. The research shows that the more parents are involved in a student's education, the better they do. So when the parents are here and able to see and know and learn what their students are doing, it makes an impact on their students whether they feel it or not." 
Back to School Night preparation began weeks in advance with assistant principals and the principal organizing the bell schedule to match the teachers needs. Other than this, teachers controlled their presentations and the material they hand out to parents.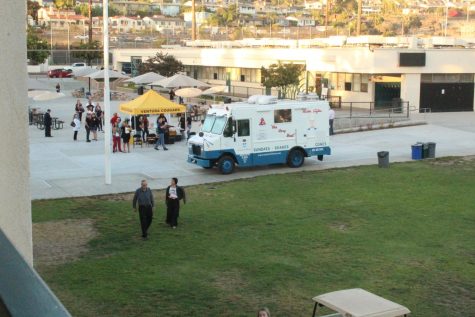 Clobes said, "I used to be a teacher here at Ventura so I miss the part of being in a teacher's role and introducing my curriculum and all those things so now I like to go see that happening with the other teachers. So my favorite part is getting to see the teachers in action." 
Rodriguez said, "Back to School Night provides an opportunity for parents to meet teachers in person, listen to and learn about the expectations for students throughout the year, be able to view student work and connect to other resources our campus has, like our counseling departments [and] our SAP assist, buy merchandise [and] just really connect to the school community."