Should you stay away from that palm tree?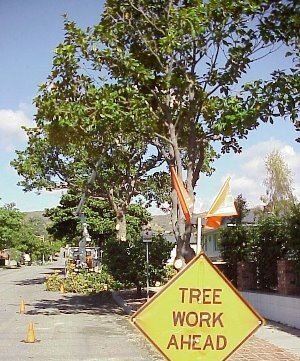 Ventura High School experienced strong Santa Ana winds on Monday, October 9, that reached 32mph around 12:20 p.m. These winds caused palm tree seeds, palm fronds, various tree branches and even an entire tree to fall over on campus.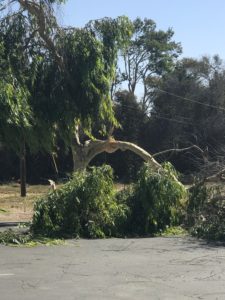 This poses a problem, because any of these things could have fallen on a student, faculty member, or classroom. Just palm tree seeds alone are strong enough to break through car windows when they fall and they collect in mass quantities on the ground -which if stepped on- could cause a person to fall.
This could be a potential threat to VHS students, considering that the palm tree seeds generally aren't cleaned up and are just left for people to walk on.
Nordhoff High School in Ojai, California reported on a similar story in regards to threats posed by trees on campus. In "Campus Trees Get a Closer Look," by Malina Cate, a fallen tree limb at Topa Topa Elementary School in Ojai fell over and injured five people on Monday, September 25.
As reported by the Ojai Valley News, elementary school teacher Mrs. Hill and her students were standing outside underneath the tree for her physical education class -preparing to head back inside- when the tree branch broke.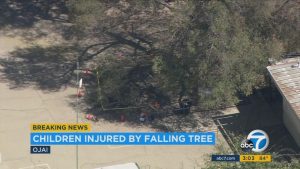 The 20 ft long branch that was estimated to weigh anywhere from 300 to 500 pounds, according to Ventura County Fire Department captain, Stan Ziegler, critically injured the teacher and a student. Two students were moderately injured and another student suffered minor injuries.
One student was airlifted off the scene via a helicopter and was transported to the Los Robles Hospital and Medical center in Thousand Oaks by the VCFD air squad. Teacher Mrs. Hill as well as the other students, were transported to Ventura County Medical Center and other local hospitals via ambulance.
Though the fallen tree at VHS didn't injury anyone, it's evident that fallen trees around school campuses are appearing to be more of a potential issue than imagined.
The Voice of San Diego's article "As You Pass That Palm Tree, Heads Up!" from 2010 relates palm tree hazards to the city's budget cuts. With certain budget cuts that were made in San Diego, the city is not allowed to spend money on the rather risky and expensive job of palm tree trimming.
To enumerate the cost of palm tree removal, according to treeremoval.com, it can cost up to 1,500 dollars if not more per tree, as well as up to a 1,200 fee for palm tree trimming.
The city of Los Angeles is also facing potential threats from palm trees within their neighborhood.
In an article published by Amy Corral and Randy Mac with NBC News in 2014, LA resident Elsa Lopez stated that "We've been asking the city for two and a half years to come trim the palm trees."
During this time, Lopez said that she heard little from the city about palm tree maintenance, however, "the city had paid out thousands of dollars to repair cars and homes damaged by palm fronds."
There are over 700,000 public trees in LA, and it's the city's responsibility to maintain them however, "The current tree trimming cycle is about once every 21 years," according to Los Angeles Urban Forest Division Manager, George Gonzalez.
After seeing palm tree seeds on the senior lawn every day though and now being aware of their potential hazards, VHS students may be asking themselves, "Why don't we clean up after our trees?"
Could it be that the school maintenance funds have been cut and VHS cannot afford the expenses of ensuring palm trees? Or could it be that palm trees have never really been identified as a hazard until recently?
Though both remain interesting questions, neither are definite answers for why VHS doesn't clean up after its palm trees.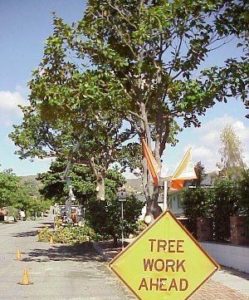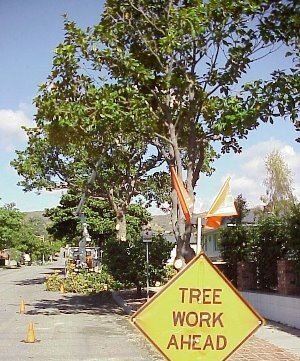 According to the City of Ventura, the Urban Forestry Program is responsible for pruning and maintaining the city's 30,000 public trees through a management plan that calls for pruning most or all of the trees within the city's 24 pruning zones over a 6 year period.
VHS custodian, Daniel Sandoval, said that maintaining all of the campus palm trees is not only a lot of work for the custodians, but he also added that the custodians don't have enough time as is to be cleaning up after the trees, because of all of the other work they have to do.
In addition to these potential safety hazards, retired Ventura College professor, James Downer, conducted research on palm tree diseases in California. According to Volume 17 Number three of his Landscape Notes, Diamond Scale is a disease caused in Washingotnia Filifera by Sphaerodothis Neowashingtoniae shear.
According to Downer, this disease is only found in California and is especially problematic near the coast or valleys with coastal influence.
Palm trees can also be dangerous if you touch them in the wrong spot. According to SFgate, "Sharp thorns on their branches, trunks and the undersides of fronds can puncture the skin and cause bacterial or fungal infections. Puncture injuries may look harmless, but bits of thorny debris may lodge inside the wound."
These palm tree puncture injuries could then require medical treatment.