Concerns arise regarding girls beach volleyball sand courts
With the erosion of several sand courts, the VHS girls beach volleyball team is pressing for new courts
As a result of the irregular amount of rainfall in Ventura for 2023, four out of eight of the public beach volleyball courts at San Pedro State Beach have eroded. Coupled with the previous loss of one of the courts, only three are left. The 28 VHS girls beach volleyball players are now forced to play games on the remaining courts. The three sand courts are inadequate, as VHS, BHS, FTHS and St. Bonaventure share them.
VHS Girls Beach Volleyball Head Coach Artie Maidman said, "There's just not enough courts right now for all of [the local high school teams] to use and practice time in. The district and school officials are aware of the need for sand courts and understand that at least three courts are needed to handle a beach volleyball program."
In response, the team has begun using a different facility at the Portside Harbor Community, which has two sand courts. However, the team is pushing to construct at least three outdoor sand courts of its own. There are currently two sites in consideration for the courts: the parking lot above Larrabee Stadium and Cabrillo Middle School. While the on-campus site is more convenient for players, the CMS site is more feasible as there are idle sites on its campus, as opposed to the VHS plan, which entails the removal of parking spaces. Neither site has been chosen as of March 15.
Lily McMahon '23, a girls beach volleyball player, said, "I would definitely prefer courts at VHS. We [are] always fighting to use every minute of daylight we have and when we have to get down to the beach, find parking, and change, we lose valuable time that could be saved if we didn't have to leave campus."
VHS Athletic Director David Hess, who has been involved in the potential project, said, "The problem [with practicing off-campus] is [that the girls beach volleyball players] have to leave campus every day and then drive down to the beach. It's better to have courts on your campus, if you can do that. A lot of schools in our league now have their own sand volleyball courts on their campus. So we're trying to do the same thing here."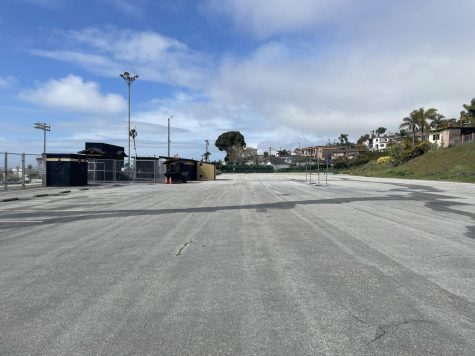 The project is expected to take three to eight weeks to complete once underway. If enacted, the sand courts will be available for use by the girls beach volleyball team in time for the 2023-24 school year.
Maidman said, "[New sand courts] are an official project. It doesn't necessarily mean that it's going to happen, from what I understand. But we are an official project, and I've been looking at various contractors and hopefully ways to get the job done."
The project would primarily be financed by Measure E, a $434.5 million bond measure for VUSD school improvements passed by voters in November of 2022. Most of the costs associated with the project would be from purchasing sand, as the fine beach sand required for beach volleyball is expensive, much more so than construction sand, which is used at the Portside Harbor Community sand courts. 
Alyssa Garo '25, a girls beach volleyball player, said, "It is extremely important to have good courts and good access to [them] because it could really change the playing field when we have really good courts. This year we have really good teams and we've had some amazing matches and I really hope that our courts come soon [to] VHS. It will bring us more [opportunities] for our fellow students to support us and will [be] more convenient for the players."