Ventura High School receives unanimous gold ratings at Rancho Campana Music Festival
Wind Ensemble I, Wind Ensemble II Honors and String Orchestra II Honors all received the highest rating
On March 9, VHS' Wind Ensemble I and Wind Ensemble II Honors attended the Rancho Campana Music Festival and received superior gold ratings. The next day, the String Orchestra II Honors attended and received the same rating, 90 to 100 percent, based on performance and level of difficulty. VHS has received unanimous gold ratings every year over the past 14 years at the Camarillo festival. 
Ratings were decided by adjudicators who are professional musicians and long-time music educators. There were 28 schools present at the event, which was three days long, although VHS only attended two days as they were able to fit all three groups performing into that timespan. 
VHS music director and teacher Paul Hunt said, "The Rancho Campana Music Festival is where local schools participate through the Southern California School Band and Orchestra Association. Similar to sports and CIF, SCSBOA is our organization. Four adjudicators listen to groups from throughout SoCal and rate them based on their performance and level of difficulty. Our Wind Ensemble II Honors and String Orchestra II Honors entered the highest classification (Level six – Collegiate/Professional Level). Wind Ensemble I entered at [a] basic high school classification." 
Wind Ensemble I performed "Anthem for Winds and Percussion," by Claude T. Smith, "Luna," by Yukiko Nishimura and "Amparito Roca," by Jaime Texidor. 
Oboe player Adeline Vertucci '25 said, "I have been playing music for seven years. I think we performed really well, there were some things that didn't really go as planned but overall it was one of our best performances. I didn't expect to get the rating we did just because there were some things we could've done better. I've only done one other festival and it was very different from this one, the way the judges judged things was different and [this festival] felt a lot more real than the other festival I did."
Wind Ensemble II performed "Lyrical Fantasy," by Hirokazu Fukushima and "Vigils Keep," by Julie Giroux.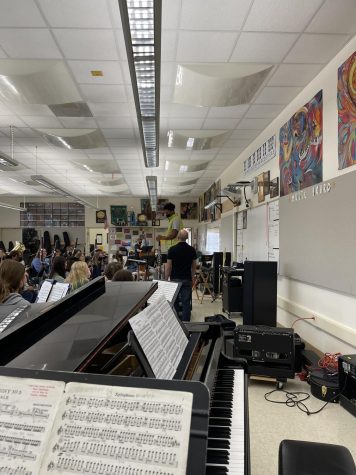 Saxophone player Reese Whitley '23 said, "I thought the performance went well, we did perform at 9 p.m. so we were all starting to get a little tired, but we persevered and did the best we could. I think overall everyone had a great time. At this caliber of festival the honors wind ensemble usually receives the superior gold but we were still super grateful and excited to receive it. In contrast to the grand national festivals we go to across the country, Rancho Campana has a much more relaxed atmosphere and is really just a great way to receive criticism and feedback to enhance our sound."
String Orchestra II Honors performed "10th Sinfonia" and "Overture to the Hebrides Suite," by Felix Mendelssohn. 
Violin player Mia Kish '24 said, "I've been playing violin for about seven years. I think that we performed pretty well, especially in comparison to my previous years at festivals. I'm really proud of the work that we've done on our pieces and overall this year. I think that in comparison to other festivals, this was one of our stronger performances that just went really smoothly in terms of repertoire and performance."