Ventura High School celebrates senior athletic signing day
VHS senior class athletes celebrate senior athletic signing day
During lunch on May 24 on the senior lawn, athletes of this year's senior class celebrated officially committing to an athletic program of their choice. Students from all grades on the VHS campus gathered to view the signings. The signing of student athletes to their colleges and programs of their choice happens annually on the VHS campus. 
Athletes included were Tobias Raymond '23, Carson Peterson '23, Chelsea Ochoa '23, Kiana Kellner '23, Ryan Mendez '23, Wyatt Schrader '23, Jake Globerman '23, Finn Hoover '23, Kaylee Goodwin '23, Esja Moore '23, Kelsee Espitia '23, Lexi Zipleman '23 and Ian Hughes '23.
Among the universities that VHS athletes signed off to include Brown University, University of Southern California, University of Northern Colorado, Utah Tech University, California State University Northridge, Point Loma University, Ventura College, University of La Verne and Willamette University.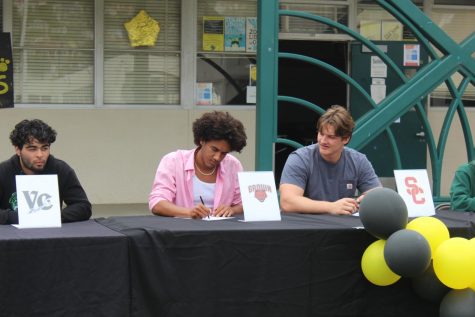 Ochoa said, "[The senior athlete signing day]  was just so fun, I've always seen these things before and I thought it would be so fun to be a part of it. It's just super surreal. I was just soaking it all in."
In attendance were various administrators as well as coaches of the VHS athletes to view them signing their letters. Coaches who represented each sport also delivered speeches for each of their senior athletes. A backdrop was also set up as decoration for VHS athletes to take pictures with individuals of their choosing who were in attendance. 
Peterson said, "I thought it [the senior signing day] was really nice, it was a big recognition. I think student athletes work really hard to balance school and athletics and all of us are good friends so it was nice to have that moment our senior year." 
The signing day provided VHS student athletes to become official in their commitment to the sport of their choosing along with the college they are choosing to attend.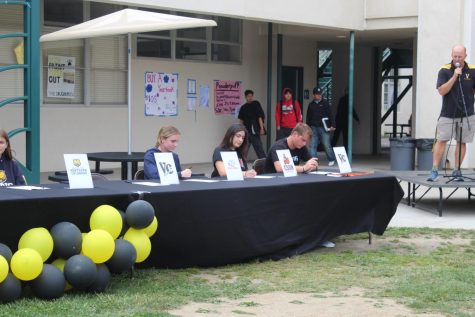 Ochoa said, "Coach Anderson spoke for me. It was super nice he said very nice things about me, I felt very appreciative he explained how I've been a varsity runner all of my four years in high school running and how I'm in the state meet for the third time and how all of it has come together, he's such a great coach and I'm just very appreciative."