Why is the Five Nights at Freddy's movie nothing like the game
I recently watched "Five Nights at Freddy's" by Jason Blum and Scott Cawthon and was disappointed that it was nothing like the game. As a fan, I was excited to see the movie, expecting it to have the same storyline of a security guard fending off animatronics. However, the movie took a completely different approach. While the movie may have been entertaining on its own, I couldn't help but feel let down by the lack of similarity to the game.
The movie differs from the game in several significant ways. Firstly, the game is more straight to the point with not much of a storyline. You don't learn much about the characters or animatronics. You jump in as a security guard, attempting to not get jump scared by animatronics through opening and closing doors and using a security camera. This is the main part of the game and what gives it the scare factor.  Even though it's called "Five Nights At Freddy's," there are seven total nights you need to survive. 
In the movie and the game, the animatronics have childrens' remains inside of them. They are trying to steal the security guard's sister and put her inside an animatronic, so they can play with her. The movie ends with a really bad brawl between the owner, the animatronics and the humans. It ends when Abby, the daughter of the security guard, draws a picture of the owner killing the animatronics, showing the truth that he killed them and brainwashed the animatronics. If you didn't think the owner was evil enough, he hired the security guard because he knew that one of the animatronics was his younger brother. Additionally, the movie has a different tone from the game, with more emphasis on jump scares and horror elements.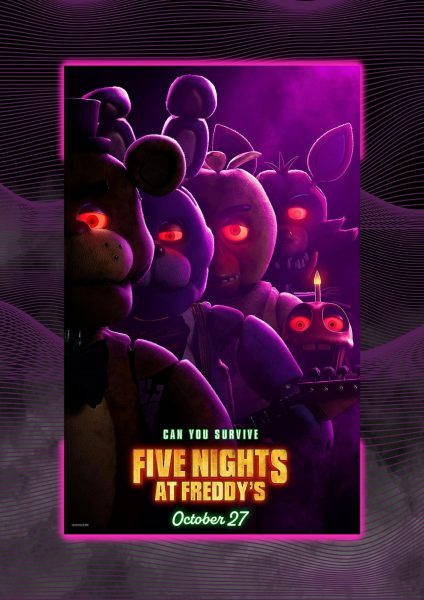 There are a lot of easter eggs in this movie such as the guard's shift ending at 6 a.m., the security guard's last name, Sparky's Coffee Shop and animatronics being weak to electric shocks. In all of the FNAF games that include you playing as a security guard, the shifts all end at 6 a.m.. In the original "Five Nights at Freddy's" when you complete your shift you receive a check out to "Mike Schmidt," which also happens to be the guard's name in the movie. The coffee shop in the movie is a reference to a hoax within the community where a dog would come and kill you on one of the nights. Many players believed this animatronic to be real but it ended up being a hoax. They ended up keeping in the movie that the animatronics are weak to electricity and will have a "stun gun" effect when electrocuted.
The differences between the game and movie have caused disappointment among some fans of the game who were expecting an actual representation.