Phoenix Triathlon raises 2000 dollars for victims of the Thomas Fire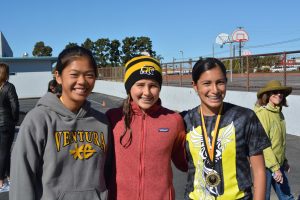 On Sunday March 4, Ventura High School students, staff members and parents participated and volunteered in the 11th annual Phoenix Triathlon. The triathlon took place at the Ventura Family YMCA at 7:45 a.m. and consisted of a 550-yard swim, an 8-mile bike ride and a 3-mile run.
According to VHS English teacher and Phoenix Triathlon coordinator, Jay Locher, the triathlon started in 2007 because students at VHS wanted a way to put their curriculum into action. "It started when my students began studying mythology. They said, 'We should do something to sort of follow the hero's journey, to sort of put it into action,'" said Locher.
Interview with Locher by Lola Bobrow
Studying the hero's journey is a large part of 10th grade English and is largely taught by following Joseph Campbell's theories.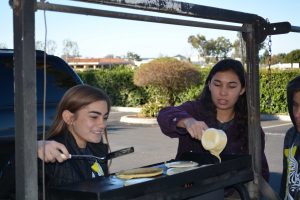 Every year, the proceeds from the triathlon go to a different charity. Past years included Habitat for Humanity, Heifer International and The Young and Brave Foundation. The first year of the triathlon, the proceeds went to victims of the 2007 Witch Fires in San Diego where 1,265 residential structures were burned. Similarly, this year the proceeds will go to victims of the Thomas Fire.
"About 2000 dollars between competitors and donations [was raised]," according to Locher.
This year there were 17 teams competing, five teams being composed of students. VHS teachers such as Locher, Mary Dietz, Woody Maxwell, Justin Weber, Mark Schmidt, and Schatzi Sovich who competed in various forms and also encouraged their students to volunteer.
Student volunteers helped count swimming laps, directed bikers and runners and cooked breakfast for the athletes.