Opinion: Safe driving? More like chaos in the lot
First I would like to address the hypocrisy of this article as I am not a driving student at VHS, but I will not hesitate to comment on the reckless behavior that goes on in the parking lot.
The reason I even address this issue is because, in the past month of school, I've almost been hit five times: twice by sitting in a friend's car while a student is backing out of a spot without turning around to look behind them, and three times while walking to class because kids running late and mindlessly rushing into the parking lot.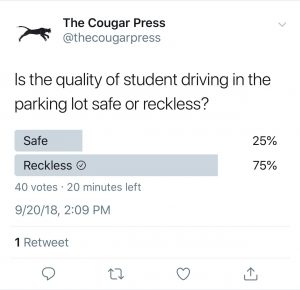 Of course the circumstances of each occasion vary, and I don't fully blame the driver. I concede the fact that certain "jokester" students like to jump in front of the car to stop traffic as a laugh, or pull on the drivers door handles to scare them. Those students should be reprimanded as well — their actions could cause them to get hurt, or even create an accident. The fact of the matter, though, is that all students should treat the student parking lot with the same respect and safety regulations of any other public parking lot during all hours.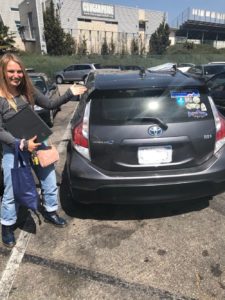 I'm sure in a Target parking lot people check behind them while they're backing out, just like I'm almost positive they don't go around pulling the door handles on passing cars. It's disrespectful and reckless. When asked her opinion on the quality of driving in the parking lot, senior Christine Martin said, "I think people drive fast to show off and it's really unsafe and stupid."
Honestly, the students of VHS have a lot of leeway when it comes to parking lot regulations. We're only asked to have parking permits, and to be safe and mindful of the other students. Doing donuts in the empty part of the upper lot or speeding around the speed bumps may seem fun, but it's reckless and needlessly creates chaos. Don't be dumb, be safe — after all, it shows in your insurance bill.