The Borderline shooting memorial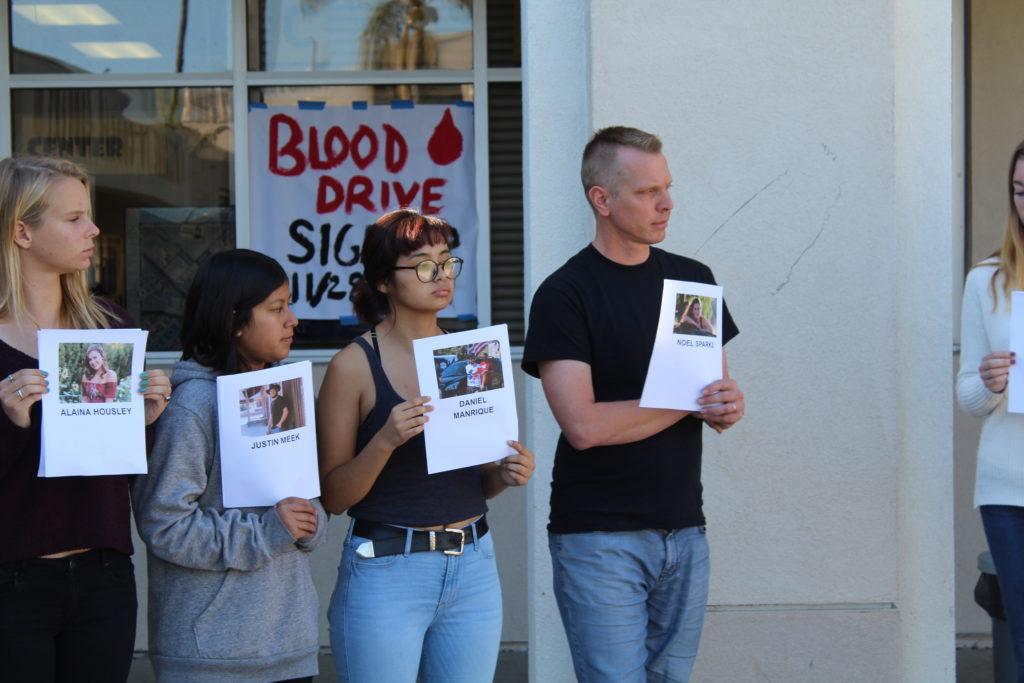 The recent shooting on Nov. 7, 2018, at the popular Borderline Bar and Grill in Thousand Oaks has affected many people around the community for various reasons. The one thing we do know is that the shooting and the twelve lost lives, including the suspect and Sheriff Sgt. Ron Helus, will never be forgotten. Friday, Dec. 7, Ventura High School is holding a memorial event commemorating the tragic happening.
This memorial had multiple speakers, which each talked about the life of a different victim of the shooting. The speakers represented the NASAGV Club (National Association of Students Against Gun Violence).
The first speaker was Grace Mansfield. She spoke about Sheriff Sgt. Ron Helus, who proposed to his wife three decades earlier on the same location before Borderline was built there. Helus was set to retire in 2019, but his family and friends said, "He died doing what he loved."
Senior Micah Wilcox was their next speaker. Wilcox spoke for fallen Cody Coffman, who many have seen playing on the Camarillo High School football stadium.
The next speaker was junior Lindsey Froelich, who remembered Alaina Housley. "[She] was a freshman at Pepperdine University."
Jesse Sandi spoke for Cal Lutheran University graduate Justin Meek. "[Meek] could be found on Pepperdine's hockey field or in the pool for water polo."
Giselle Gallegos spoke for Daniel Manrique, which worked with a non profit organization who helped Veterans transition from war life to civil life.
One of VHS's French teachers, Sebastien Declerck, mentioned Noel Sparks, who majored in Art at Moorpark College.
Sammy Pederson, a senior at VHS, spoke about Jake Dunham, who was a Newbury Park resident. He reportedly died protecting his friends because he was dedicated to his family and friends.
The last speaker was junior India Hill, who spoke of Markey Meza, a 20-year-old Old Moorpark high graduate and resident.
The Borderline Shooting is the United States' 307th mass shooting of 2018, according to USA Today.
Also mentioned in the memorial was a counseling service in the VHS office for anyone who would like to come in. The NASAGV Club is held on Wednesdays in Declerck's Classroom.