Which path will you choose?
After high school, there are a lot of options to choose from to go forward with your life.
The military, one such option, is very beneficial for some students. You can receive medical benefits along with housing and schooling. There are four branches of the military to enlist in, each having their own smaller divisions. There is the United States Army, the Air Force, and the Navy. Deployment in the army means front line, blunt action. The marines focus more on specific military operations. They have a mission, complete it and get out. The Navy focuses on sea-related issues, and the Air Force is the aerial and space warfare branch of the military.
When asked why he is thinking about joining the military, senior Connor Cook said, "I believe it is a great opportunity because it helps you with colleges, and I am just super patriotic so I've always wanted to be in the military… it also gives you good work experience for whatever you do afterwards." Cook also mentions his family's history with the military: "Both of my grandfathers were in the air force. One was a medic and the other was an engineer for the planes."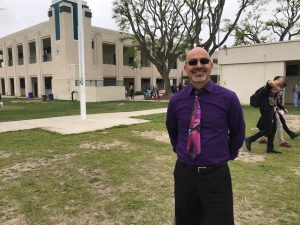 Different military branches frequently visit the campus here at Ventura High School, giving out information for their branch and holding contests such as a pull up challenge, push up challenge, and others where you can win prizes and other trinkets. Another thing the military offers at VHS is a free ASVAB, a type of career placement test, which can help you find your place in the military. Taking the test isn't a commitment to join the military — many students just use it to help figure out their own strengths.
Being an ex-marine out of his senior year of high school, Ventura High School Principal Carlos Cohen said, "Well, the benefit right off the bat is that you will be working with a reputable, distinguished organization that has a lot of resources at their disposal. Through them, I learned camaraderie, discipline, courses in electronics and even trained with the infantry squad. On top of all that, it's a job. It's also an adventure if you get to travel to different bases in other parts of the world."