Billie Eilish's new album: Hot or not?
I was certainly taken by surprise when I heard Billie Eilish had dropped a new album, titled "When We All Fall Asleep, Where Do We Go?" In my mind, she was known for putting out a single song at a time, so this overload of Eilish's songs made me take a step back.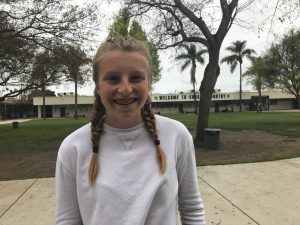 For those who don't know, Billie Eilish is a 17-year-old singer and songwriter. She started to gain popularity about two years ago for her homemade melancholy music that she wrote with her brother. Many people, such as Ventura High School freshman Tess Luoma, like Eilish and her music. Luoma said, "I think it's inspiring how she's so young and so successful."                                                           
Others have more of a negative opinion on her such as VHS sophomore Evan Tindall. Tindall said, "At time her music can be too sad for me and not very good."
In a newly written album review in the New York Times, Joe Coscarelli has a contrary opinion to Tindall, saying that her new album "might also make her a household name."
With the background information that she is an artist as well as a creative director for herself, she has worked quite hard to get where she is now.
From what I have heard from her music, she has definitely gone farther on her own path as she gains more and more fame. Her hits in the beginning of her music career, such as "Ocean Eyes," had the same melancholy tone with a high vocal tune you could find from any artist at the time. Now, with her current hit, "Bad Guy," you hear more unusual monotone chanting, dramatic base, and robotic voice effects that are absent from the pop music that most teens are listening to today. I think these certain changes in her musical growth have given her more recognition than she has received in the past.
"When We All Fall Asleep, Where Do We go?" has already reached number two on the Billboard top 200 list in the past 26 days. With that statement, I think it's safe to say that Eilish's new album is great for her career and our ears.