Whatcha got cookin?
Students share their favorite holiday recipes
During the holiday season, many people come together to share and indulge in their favorite seasonal foods. Whether it be something passed down through generations, or even a recipe from the internet, food is a well-loved way to get in the spirit and for people to treat themselves.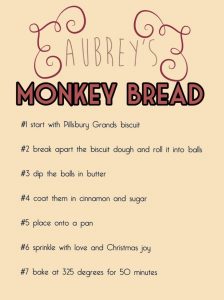 Many recipes bring back happy memories and become traditions. Sophomore Aubrey Stadtmiller shared her dad's family recipe for monkey bread. However, it isn't just a delicious recipe,the sweet pastry is embedded with years of love and Christmas tradition. Stadtmiller expressed, "My dad gets up every Christmas morning and makes a bunch of monkey bread. We eat it while opening presents, and always end up eating so much." Included in her dad's recipe of course is, "love and Christmas joy." Memories of being able to indulge in something so delicious while simultaneously spending time with family have left Stadtmiller with a warm, joyful feeling towards her dad's delicacy.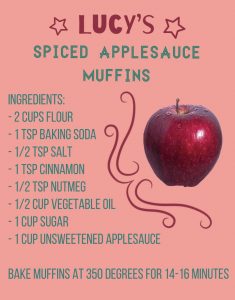 Recipes can also bring family together as it does for Juana Egus. Egus said, "I love that all of my family, even the ones from out of the country, get together and share important memories with each other. And of course have fun." Family reunions are common around the holidays and are often brought together by the food. Egus expressed, "Everyone comes together and eats everyone's food, even if it's not that good. It's cool seeing everyone having a good time around the best food." Whether the recipe is from a box or from scratch, it seems to Egus that her family's food never fails to bring joy around the holidays.
The treats that you bake, eat, and enjoy don't always have to be from old or special recipes. Sophomore Lucy Eckberg said that she enjoys making spiced applesauce muffins during the fall season, but her recipe actually came from the internet. She recalled, "I had nothing in my fridge, and I really wanted to bake." Luckily, she had all the necessary ingredients, and thus, her spiced applesauce muffins were born.
Food fills these VHS students with joy and brings people together. Recipes from different families show traditional backgrounds and can inspire us to try new things during the holiday season. Our advice to you is to make time for friends and family, grab your apron, and get cookin'.