Does Disney+ live up to its hype?
With the new streaming platform, members can access all their favorite childhood movies in just a couple clicks
Since it's release on Nov. 12, Disney+ has taken the world by storm. According to its website, members are able to stream Disney classics, new releases, TV series, and exclusive originals for seven dollars a month. The company also claimed that within one day of its launch, 10 million people signed up for the service. So what exactly is this Disney+ hype all about?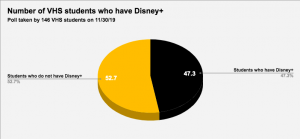 Sophomore Melina Benitez, a user of the streaming platform, shared her thoughts on why the service is so popular, "All the other streaming sites are limited with Disney [selections]. And now it's become available to you, with all of its shows and movies," said Benitez. "I enjoy being able to go to one place to watch all of my favorites that my friends and I grew up with."
Based on a poll of  146 students, 77 of them said that they aren't currently signed up for Disney+. Senior Myles Marr was among those who currently do not pay for the streaming service. When asked if he'd consider paying it, Marr answered, "Unless I suddenly become rich, no."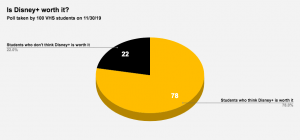 Marr also offered his perspective on why Disney's latest project has been so successful. "Everyone loves Disney, so there's always a big hype around anything new Disney does. They also own a lot of popular franchises, movies, and shows." Although he won't be installing the service anytime soon, Marr does enjoy a lot of Disney movies, especially in the Marvel and Star Wars realm.
An additional poll asked students if Disney+ was worth it, with 77 percent claiming it was and the other 23 percent disagreeing. All in all, the arrows seem to point towards this streaming service living up to its hype. So whether it's a favorite childhood classic or the latest cinematic release, there is sure to be something for everybody to enjoy.