Where will our seniors be in the fall?
VHS seniors begin making final decisions as college acceptances start rolling in.
December is generally the time of year when college application results start getting sent out, at least for students who have applied early decision or early action. Now that it is February, more high school seniors across the country are beginning to weigh their options and come to final decisions on what college they plan on attending in the fall.
The process is no different for Ventura High School seniors as many have already heard back from schools and some have even committed. While being accepted into a college can be exciting, students must consider factors such as one's intended major, budget, and desired location.
Most students begin by compiling a list of reach, match, and safety schools to apply to, however, senior Jessica Johnson only applied to one university. Johnson explained, "I was thinking of applying to UCLA and UCSD but I realized that I would much rather be in a school in Hawaii so I saved myself the time and didn't apply. I'm not too into prestigious colleges either so I didn't want to apply just because it's a 'UC.'" Johnson is excited to be attending University of Manoa Hawaii to study Pre-Nursing.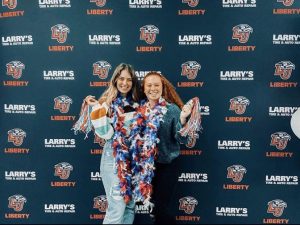 Out of the five schools she applied to, senior Emily Dahm got into all of them: Liberty University, Colorado Christian University, Point Loma University, Cal Baptist University, and Cal Lutheran University. She has committed to her top choice, Liberty University in Virginia. Dahm, who wishes to major in Early Elementary Education, commented, "I wanted a medium sized Christian school that offered a great teaching program as well as a good music program. I also wanted a college with good sports and a fun atmosphere overall."
While some seniors have already committed, others are still weighing their options and waiting to hear back from other schools. Senior Talia Walsh, who plans on majoring in Theater Arts, has been accepted to Saint Mary's College of California and Northern Arizona University. "I'm not really considering Northern Arizona University. I only applied because I had one of those VIP applications [and] they have a really high acceptance rate," stated Walsh. As for Saint Mary's, Walsh is still considering it, however she wishes to visit the campus before coming to a decision. Walsh is still waiting to hear back from her top choices, Cal Lutheran University and UC San Diego.
Senior Leonardo Cabello, who wishes to major in either Electrical or Mechanical Engineering, is also awaiting further responses. Cabello has been accepted to California State University Northridge and California State University Maritime Academy. Cabello explained, "I would consider attending both but I may favor Cal Maritime Academy, although I'm waiting for the rest to come in." Cabello's top choice is UC Santa Barbara, "I'd prefer a university where I can connect to my professors as well as be able to visit home. I'd also like a place where I can be around other like minded people," he stated.
The process of applying is time-consuming, however the struggle doesn't end there, at least for students who necessitate financial aid. Finding scholarships that suit one's criteria and filling out the applications can be just as strenuous as the college application process itself.
Walsh stated that she applied to the Reagan Foundation Scholarship Program but did not win any money. She also applied to the Ventura County Community Foundation Scholarship, UC Irvine scholarships, and even received a $29,000 renewable four-year scholarship from Saint Mary's. Dahm also applied to the VCCF Scholarship, as well as scholarships from Unigo.com, Fastweb.com, and some from Union funds that her parents belong to.
As graduation approaches, seniors will be hearing back from their remaining universities and coming to final decisions. Until then, it is still scholarship application season and with any luck, VHS's college-bound cats will be able to attend their top choices without heavy financial burdens.