Opinion: Let's talk about Latino (mis)representation
Despite being avid media consumers, Latinos have and continue to be historically underrepresented and misportrayed in film and TV. 
As activism, equality and inclusivity continue to grow in our society, they must also be present in the media. Media is often seen as a reflection of society, but according to a study conducted by The Center for Media and Public Affairs in Washington DC, Latinos have been in the two percent range of representation in Media for the past 30 years. Adding on to that, when the Latino community is represented, it is often based on harmful stereotypes: criminals, illegal immigrants, maids and characters with heavy accents and broken english. In 2012-2013, 17.7% of Latino film characters and 24.2% of TV characters were shown as involved in criminal activities. Between 1996 and 2014, 69% of maids in television and film were Latina. 
Senior Marileen Estrada shared her disappointment with film and TV in representing Latino people. "One of the biggest problems that the entertainment industry has is capitalizing on Latino struggle which feeds the stereotypes of latino people. Shows like 'Narcos' and 'On My Block' have Latino characters, but their stories are centered around drug use, the cartel, gang violence and living in the hood. What kind of representation is that truly?"
Rita Moreno, a legendary award-winning Latina actress, has also expressed her disappointment with Hollywood many times. Moreno has said many times that "Hollywood didn't know what to do with a Latina girl" and that she became the house ethnic, playing various ethnicities on the big screen but never being offered the role of an American girl. Moreno boycotted Hollywood by not making movies for seven years after 'West Side Story.'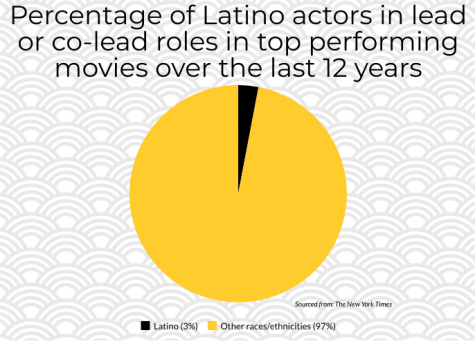 "I am tired of stories of struggles being produced by white people," continued Estrada. "It's time to cast people of color in the same roles that white actors are normally cast in and for black and brown people to exist in the film industry the way every other white person does."
Another study reported through the New York Times found that Latino actors represented only three percent of lead or co-lead roles in top-performing movies over the last 12 years. These numbers do not nearly represent the number of Latinos living in the United States (18.1 percent). The U.S. Census Bureau estimates that by 2045, one in four Americans will be Latino.
"I would say there is definitely a lack of representation for latinos in film, TV and media," said senior Kimberly Lara. "We're always represented in a very stereotypical way. How I think society should go about portraying latino characters is working closely with latino people and try not to follow the stereotype. I feel like the problem goes deeper than just actors, we definitely need more latino producers, directors and executives. They would definitely know how to portray latino people in a way that isn't so white washed."
These stereotypes are carried over into the news media as well. In 1995 and 2004, less than 1% of stories were about Latinos. And of those stories that were about Latinos, most of them focused on illegal immigration and crime.
Lara continued by stating that, "I just want to see myself portrayed in a non-stereotypical and positive way. Educating people on Latino culture, especially since there is so much diversity, could help society fix the misrepresentation of Latino people."
The truth is, we are more than our struggles. Latinos are such a diverse demographic of people, and it hurts to either not be portrayed at all or to be depicted as victims. We are regular people. Of course it's easier to capitalize on a group's struggles and pain, but it's so much more fulfilling to include their progress, achievements and culture. American culture can only be the beautiful mixing pot it portrays itself as if it uplifts and celebrates the minorities that are present in this country.