Senorita Ellberg: A fresh take on classroom flexibility
Senorita Ellberg has brought a new perspective to teaching language and culture at Ventura High School
Who is the new Spanish teacher in room 119? Grace Ellberg has a lot of history in Ventura, after growing up in Ventura, attending Buena High School and participating in Ventura's youth track group, Tigres. She has settled at Ventura High School to teach Spanish. Her virtuosic ideas following flex seating and collaboration in the classroom have her current students intrigued by the interactive style. 
Savannah Marin, a freshman in Senorita Ellsberg's Spanish two  class, says, "I like how she teaches with interactive activities and has us listen and repeat Spanish, so we understand what we are saying. She teaches in a more natural way of learning a language which I like." 
Ellberg, when asked about her favorite part about the VHS community, says, "Everyone could not be friendlier, the staff and the students have been so kind and welcoming, and that is something I definitely noticed my first day at Ventura."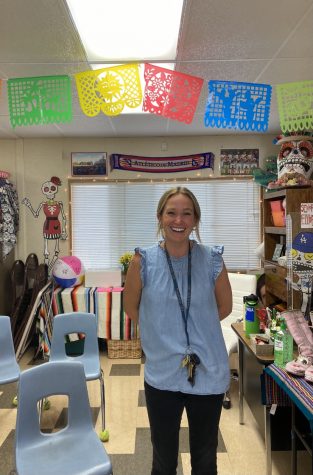 Ellberg graduated from UC Davis, where she double majored in history and Spanish. She fell in love with traveling when she chose to study abroad in Spain. Ellberg says, "I was there for six months, and I loved it so much that I knew I wanted to go back to Spain and spend a longer time there, after college." After she graduated from college, she found a teaching program that allowed her to teach English in Madrid, Spain for a year. She graduated from UC Davis with no intention of ever teaching high school. However, her experiences in Spain led her to realize how much she enjoyed teaching that age group, "I loved the age group, I loved working with teenagers." Ellberg says, "I have learned that teenagers really are the same no matter where you are in the world." 
Immediately upon walking into her classroom, students may notice that Ellberg has no desks, only chairs. This is a new approach to flex seating, allowing her students more freedom to collaborate and interact in the classroom. "When my students walk into my classroom, I want them to feel like they are in a really fun and different learning environment," Ellberg says.
Ellberg has recently joined the cross country coaching staff alongside Coach Cruz and is enthusiastic about the prospect of helping with the Ventura cross country program. Ellberg has been running ever since her parents could put her in 5K races. She joined the youngest group of the Ventura Tigres running team and continued her running career throughout high school, reaching times such as 20 minutes and under and completing two marathons. "Running is such a good thing for someone not only physically but mentally as well," Ellberg adds. 
Ellberg has traveled to 25 countries, including Peru, Panama and most of Europe. Traveling and Spanish culture were introduced to her at a young age. Ellberg's family would travel to Mexico every summer, a tradition set in place since her mother was little. "I think that is when I grew an appreciation for other cultures." Ellberg states. Her love of travel, language and learning about different cultures made her realize that she wanted to teach all of these things to her students.
Ellberg's innovation when it comes to her classrooms, flex seating allows for open interactive space. "We are going to be dancing a lot; we are going to have a lot of stories where we will need actors..so it allows for a lot of space for those things to be done. Ellberg hopes to bring her experience and love of culture into her classroom and give her students a fantastic year.