The return of cougar football
After being tackled by COVID-19, Ventura High School's Football team is getting back up
The pandemic has drastically changed sports, and football is no exception. Head  football coach, Tim Garcia, "We have less players this year. I am assuming that in part is because of COVID-19. I really think that because of us not being able to communicate with the students about tryouts and when things are happening… It definitely took a toll on the numbers." 
Not only the size of the teams have changed, but also the number of teams. "Normally we have a freshmen team, we then have a sophomore team and then varsity. This year we only have a frosh/soph and a varsity" said Garcia. 
Players and coaches have also had to adjust to meet COVID-19 protocols during practices. Joey Reynoso, the sophomore quarterback for the VHS varsity team said, "We have to be extra careful…So it's just like if we get exposed we have to watch out cause our team will be separated. We won't have all our players." Despite the outbreak, Reynoso said, "I felt safe. We just had to mask up".
The situation Reynoso was saying the football team may face has already happened. A couple of weeks ago, players on VHS's football team were exposed to COVID-19. "We did have some COVID protocols that we had to shut down for," Garcia said. When asked if players tested positive, Garcia responded with,"We did have some exposure, which goes hand in hand with positive [cases]". He went on to explain that, "We followed the county public health protocol for that situation and everyone had to test. And then people had to quarantine based off of the testing and also based off of their vaccination". With many players gone, they had to combine two teams into one. "We kind of regrouped there for a couple of days and then we started right back up. We took the people that were able to continue on, that did not have to quarantine, and made one team. So we had freshmen all the way through seniors on one team". It was decided that those who had to quarantine were the players that tested positive or were unvaccinated.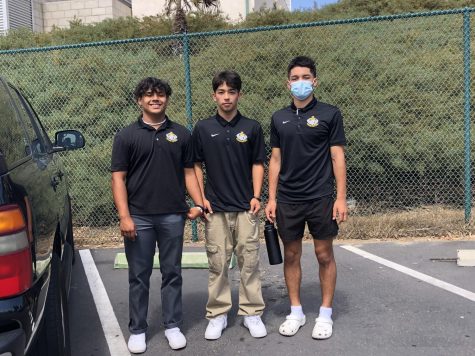 With this new team, they prepared to play the Agoura High School Chargers and went on to lose that game 21-34. "I was very proud of the way our kids handled that situation. Going in not with a full varsity squad, but a mixture of freshmen all the way through varsity and still competing with a pretty good football team" said Garcia. It was not until Aug. 30,that both teams were whole once again, after some players quarantined for 10 days. 
After this outbreak, the football team is taking more precautions. "It's something we talk about often to the players about being safe. Wearing your mask, handwashing, who are you hanging out with, those types of things. Trying to keep our circle as small as possible, just so that if something does come up we're hopefully a little more… in our own bubble" says Garcia. The team's are following the guidelines the same guidelines students are expected to during a regular school day. Masks are required indoors, but are optional while outdoors. 
Despite the hardships this season has presented, VHS Cougar football has pushed forward. Garcia says, "COVID definitely makes you appreciate the days you have on the field. As we learned going through this process you may be on the field one day and off the field the next." Also grateful and excited for this more normal season is Reynoso, "We love football and [it] just helps us so much during school. It keeps us motivated." Reynoso went on to say he is most looking forward to "beating Buena on [our] home field".