VHS On… "Certified Lover Boy" vs "Donda"
Battle of the Albums: Students voice their opinions on whether Drake or Kanye put out the better album.
At Ventura High School, the talk of this week in social scenes has been the battle of the albums between Drake and Kanye West.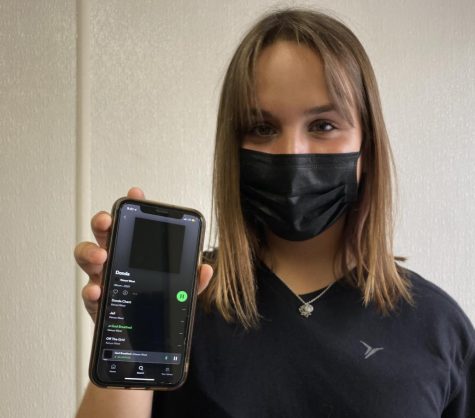 Kanye Omari West is a rapper and record producer. Before the fame he spent time producing local artists. After some time West wanted to develop his own signature style. West moved to New York, eventually having his big break conducting the production for Jay Z's track "This Can't Be Life." Kanye West released his latest album "Donda," on Aug. 29,  2021. The meaning behind the album was to pay homage to West's mother Donda West.
After chatting with a few students, sophomore Bella Long said her favorite songs on the album are, "Jesus Lord" or "Pure Souls" because of the features on it," later adding, "I have been listening to Kayne for like a year or two." Long also thinks Donda will be an award winning album.  
Drake is known as a TV actor and rap star. The artist first started his career in acting in the show "Degrassi," playing a wheel-chaired bound character named Jimmy Brooks. After acting for seven years, he moved onto music and became one of the most popular artists/rappers in the industry. Fortunately for Drake his fame only continued. His rise included dating some of the biggest celebrities, finding his own label: OVO Sound, and receiving 'The Artist of the Decade Award,' at the 2021 Billboard Music Awards. Drake released his newest album "Certified Lover Boy," on

 Sept. 3, 2021. Drake describes the new album as a "combination of toxic masculinity and acceptance of truth, which is inevitably heartbreaking."
Senior Camila Mendez, prefers "Certified Lover Boy" over "Donda": "I just like the stuff they talk about in the album, very realistic stuff to his lifetime period now." Mendez added that her favorite song from the album was "Champagne Poetry." "I like the beat he put to it and he was talking about what it's like having family now and love stuff," Mendez said.
Senior Sheila Perez jumped in and agreed with Mendez, "In my opinion CLB was better." Perez added her favorite song is "Knife Talk with 21 Savage." On "Certified Lover Boy's" hopes of being an award winning album, Perez said "Maybe not like a Grammy but a VMA." 
Kanye's Album was already on the way to the top for biggest debut of 2021. The morning "Donda" was released, it hit first-day stream records and had the second-biggest Spotify album debut with a total of 94 million streams on Spotify and 60 millions streams on Apple Music.