Ventura High School's first lockdown drill of the school year
After the first lockdown drill of the school year and new security changes, what will lockdown drills look like now?
In late November 2021, Ventura High school experienced its very first lockdown drill since coming back from last year's COVID-19 school year. During lockdown drills, students and staff are requested to turn off lights, lock doors, cover windows and stay silent. While some teachers follow this protocol, some still see it as a waste of teaching time. 
"We need teachers to be more serious about [lockdown drills]," said junior Burton Sessa. With the recent school shooting at Oxford High School in Michigan, lockdown drills and active shooter protocols are in the public eye. "[Lockdown drills are] important but they are not being implemented enough. We're not getting actual lockdown practice," said Sessa.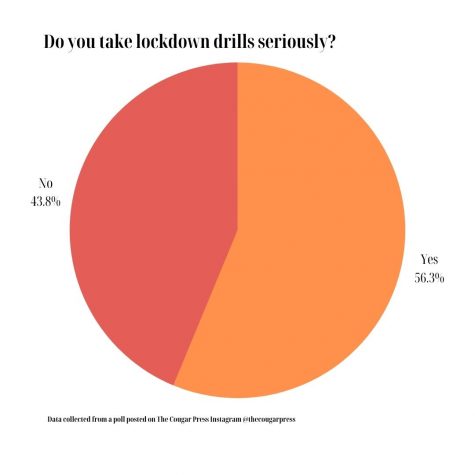 One teacher who takes lockdown drills very seriously is Ventura High School English teacher Erin Jones: "I take lockdown drills very seriously because in the very beginning of my teaching career, I started to teach in 2000 in San Diego, and in 2001 when I was just a newbie teacher there was a shooting at Santana High School, which was one of our local schools, in which two people were killed and so I've always taken lockdown drills seriously because of that." 
The purpose of lockdown drills is so that staff and students are prepared in case a real lockdown is ever held. Principal Marissa Cervantes said, "VPD (Ventura Police Department) assessed and reported on areas of improvement and strength. VPD provided recommendations based on their noted observations (noise in classrooms, uncovered windows, etc). The information was immediately shared out to staff in moving towards improvements for future drills or a real situation."
Cervantes also said, "Coaching will be offered to individuals with areas of concern and training at a future staff meeting for VPD."
According to a poll on The Cougar Press Instagram @the.cougar.press out of 48 students who answered the question, "Do you take lockdown drills seriously?" 56 percent said they did take lockdown drills seriously. 
"In the case that there was [an] actual shooter it would maybe help us, but I think most of the student body doesn't think of it that way," said sophomore Jack Baffa. So how can administration get the student body to take it more seriously?
Sessa had one solution. He said, "Maybe before a lockdown drill happens, teachers could go over what students should be doing during the drill. Lockdown drills kinda' just happen and no one knows what to do. We kinda' just close our doors."