How do VHS students and staff get around?
An analysis of the methods of school transportation
School bus
In order to be eligible to take Ventura Unified School District transportation, high school students must live at least three miles (five kilometers) away from their high school campus. Other than this prerequisite, there are no requirements in order to take the school bus. However, students who face disciplinary violations can be denied from using the service. According to the VUSD transportation department, "Students found to be in violation may be denied transportation for a period of time.  The school administrator will determine the length of time and notify the parents/guardians. The effective date of denial is the first school day following the issuance of a denial."
Sophomore Bella Long said, "I take the bus because I don't live in Ventura, so getting rides is a hassle." 
According to an Instagram poll on @the.cougar.press of 104 VHS students, 87 percent (91 responses) said that they did not take the school bus, while 13 percent (13 responses) said that they did. 
Public transportation
Gold Coast Transit operates bus routes between Ojai and Port Hueneme. The route that is closest to VHS is route six, which operates between the Oxnard Transportation Center and Ventura Avenue & Willett Street. It provides a direct route between VHS and downtown Ventura.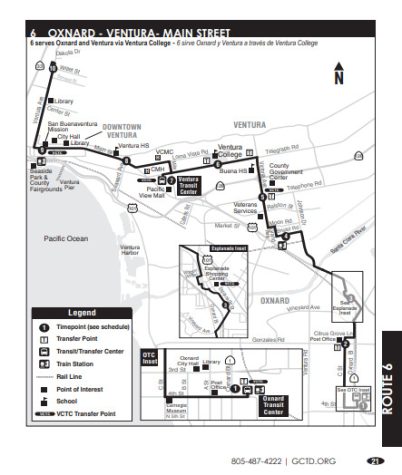 Senior Angel Hidalgo lives in Oxnard and has to take the bus home. Hidalgo said, "Once school ends, I walk to the mall to catch the bus and then after that I go home. Since the bus is my main method of transportation going home, I've had to learn the schedule for it and make sure to get to my stop before the bus."
Automobile
Driving to school is an option for students with a driver's license. VHS's parking lot, commonly known as "the lot" is a parking option for student drivers. According to the student handbook, "Each student who chooses to park a vehicle in the student parking lot during normal school day hours must obtain a parking permit issued by VHS. Parking applications and decals will be issued by the office upon the student providing documentation of a California driver license and automobile insurance."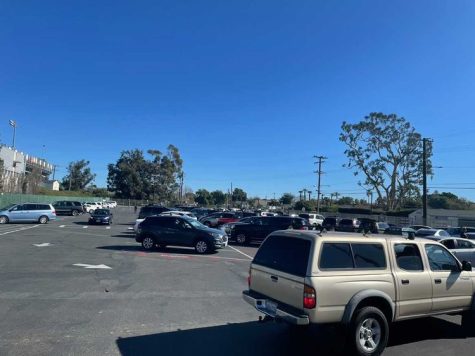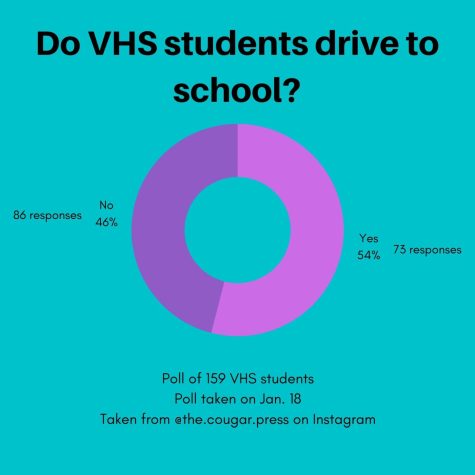 Out of an Instagram poll of 159 VHS students, 54 percent said they drove to school, while 46 percent did not. Senior Lucy Growdon-Stark said, "I really do think that it is worth it to get a car or license. It gives you so much freedom and opportunity to have more responsibility which is a very important component of growing up."
Biking/Skating
Biking and skating to school are alternate options for students and staff. Sophomore Jayden Gentry, who skates to school everyday said, "Ventura is 100 percent a skate friendly city, you could just be riding down the street and someone will yell at you to do a trick. People here love it."
VHS English teacher James Locher said, "I ride my bike to school every day unless the weather is too disruptive – such as heavy rain or Santa Ana winds." Locher only recommends biking as a means of school transportation to students who live within two miles (three kilometers) of the Ventura High School campus, and do not carry "heavy loads."
Gentry said, "I think that skating is a better form of transportation because it's faster than walking and it saves money for gas/fees for buses, Ubers and Lyfts."
Walking
Walking is yet another option for VHS students. Students have many methods of exiting campus, as Ventura High School is surrounded by four streets. These are North Catalina Street, East Main Street, Poli Street and Seaward Avenue. 
Sophomore Mia Sinclair said, "Walking home is horrible if it's hot and I live really close so it's not far." Since Seaward Avenue is blocked by fence, students must enter/leave through the other three streets.
Sophomore Scott Vreeland said, "It's [walking home] a nice way to relax after school."
According to an Instagram poll of 112 VHS students, 16 percent of respondents (18 votes) said they walked to school, while 84 percent (94 votes) said that they did not.