Philosophizing in room 57
An overview of the Philosophy Club
The Ventura High School Philosophy Club (advised by VHS math teacher Pierre Chamaa), holds weekly meetings on Fridays during lunch. The club has been around since 2001 and advertises itself as an outlet for student self-expression, particularly in terms of unpopular opinions. 
Chamaa said, "It [the Philosophy Club] is designed to help people see others' points of view and to understand where they're coming from."
As of Feb. 5, the Philosophy Club has seven members. However, members are not mandated to attend the meetings weekly, instead being allowed to choose when they attend at their own discretion. 
Chamaa said, "It [the Philosophy Club] validates their [Philosophy Club members] positions or opinions about certain topics that they may feel uncomfortable sharing with the general population. It confirms that their feelings and thoughts are maybe not something that is just unique to them, and is shared by others."
Chamaa believes that the Philosophy Club is a safe place where students can openly share their opinions. He said, "The Philosophy Club is not designed to convince anyone of anything, but instead to be more open-minded towards different opinions. It may expose them to other perspectives on topics or issues that they may not agree with."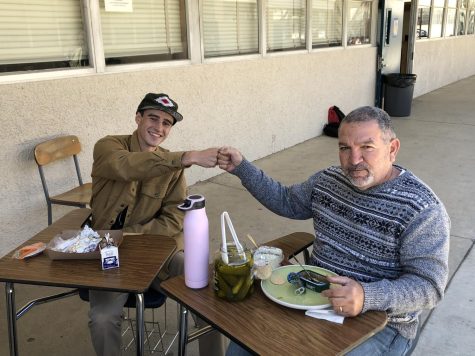 Senior Levi Kirkpatrick, who is a member of the Philosophy Club, said, "I like being able to have conversations about whatever even if it's a touchy subject and have it not be an issue. I am able to talk and learn about things."
The Philosophy Club was present at club week. The club also sold popcorn at the Nov. 19 VHS food faire. Kirkpatrick said, "I joined the Philosophy Club the week of or the week after club week. I would definitely tell students who might want to join to give it a try. It might not be for everyone, but I do genuinely enjoy it and I think it's a fun time."
Senior Isabella Rodriguez, who is also a member of the Philosophy Club, said, "I would tell students who may be interested in joining to join. If you have a topic you want to talk about and hear opinions from other people then it's a good time."
To join the Philosophy Club, students simply have to go to room 57 on Fridays during lunch, there is no sign-up required. Chamaa said, "Anybody can join the club at any time, it's not closed to new members. Just come in person, students don't need permission. Listen, share ideas and be part of the club."