VHS Theater opens the stage for spring musical auditions
"You're A Good Man, Charlie Brown" is set for auditions
The Ventura High School Theater department first announced the spring musical "You're A Good Man, Charlie Brown" in December 2021. Subsequently, audition dates for the musical have been announced, those being Feb. 23 and 24. 
Junior Sinthia Cardenas, who is planning on auditioning for the musical, said, "Ms. Rossiter announced [the musical] to our class. I would be happy with any role, I just want to be a part of it. I am aiming for Lucy or Sally."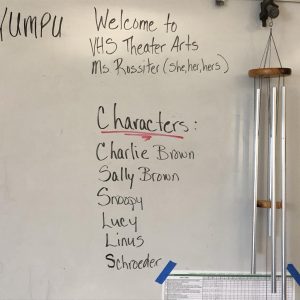 The audition will take place on the main stage in the VHS auditorium. VHS Theater department head Stefoni Rossiter said, "[The auditionees] have to sign up for an audition time to sing and dance. They also have to get the materials from me in order to know what the expectations are."
One of the last VHS Theater productions prior to "You're A Good Man, Charlie Brown" was the fall play "A Wrinkle in Time," in addition to the winter showcase. Cardenas said, "I LOVED my experience in 'A Wrinkle in Time' and I think this production can be even better! A large amount of the Wrinkle in Time cast is auditioning and we really did become a little family. Working together again would be a blast!"
"You're A Good Man, Charlie Brown" has been under consideration as a spring musical candidate for many years. Rossiter said, "When you choose a musical as a director you have to read it. You research it and make sure it works for your theater." 
Freshman Isabella Brito, who is also auditioning for the musical, said, "I heard about the musical through drama class. I've never performed in a VHS musical. I'm auditioning for Lucy and I don't know if I will be accepted because there are some really talented people at VHS."
Rossiter has previously directed "You're A Good Man, Charlie Brown" at the Rubicon Theatre during a summer program. She said, "It just felt like this was a good year to do it [the musical]. I've wanted to do it for a long time here [at VHS]."
Rossiter said, "I think that if anybody's interested they should always give something a try because you never know what will come of that. If anybody wants to audition, I strongly encourage them to at the very least, give it a try."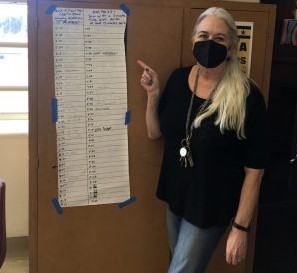 To participate in the auditions for "You're A Good Man, Charlie Brown," students must either see Rossiter at room 314, in the auditorium or email her directly at [email protected]. No prior experience is required. The musical is planned to run from April 21 to May 1.