"A Wrinkle in Time", where did the time go?
The drama department presents: their first live play since 2019
This year, for the annual fall play, the story "A Wrinkle in Time" comes alive by means of the VHS drama department. Having opened on Nov. 10, there were many shows to attend, including  Nov. 12-14, and 18-24. Throughout most of the play, actors sat socially distanced with clear, plastic masks that allow their face to be shown without the risk of sharing germs. Props were stored in a bin next to the actors, and physical interaction is minimal to keep up with CDC guidelines. 
The story of the play follows Meg and Charles Wallace as they search for their father with help from Calvin, Mrs. Who, Mrs. Witch and Mrs. Whatsit. Zoey Pence, a freshman who plays Meg said, "It [the audition] was super nerve wracking. I've never done an audition here, since it is my first year, but it was a super cool experience. I've done auditions before and things like that, but this one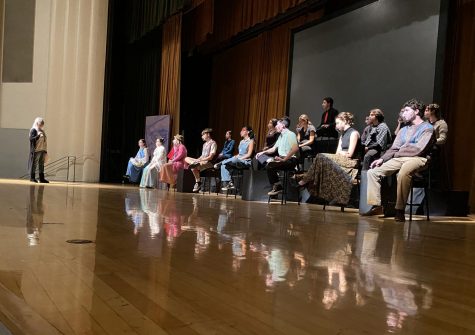 was really cool and I really liked the way Ms. Rossiter did it. Especially with this year."
The cast of the play is "very strong" according to Mya Sherman, a junior playing Mrs. Whatsit as well as Ensemble. "The drama department is just such an amazing place to be and it's such an amazing family and we just bond and it's just a great place to be creative and meet great people," said Sherman. "I feel like we know how amazing it is. Once you do it once, you are stuck for life," said Sinthia Cardenas, a junior playing Mrs.Witch. "You're hooked [on drama]," agreed Eva Lechner-Hill, a junior playing Mrs.Who.
For some cast members the audition was as Lechner-Hill said, "nerve wracking." "I feel like it was really scary because this isn't my first production and I'm like 'I really really want to be a part of this' because I know how amazing it is. I was like 'let me in please Ms. Rossiter,'" said Cardenas. "It was also weird auditioning with the mask on because you couldn't see our expressions," added Lechner-Hill. This is why the decision was made to wear clear masks, as to be able to see faces during the production. 
Most of the cast, like Cardenas, said they were "nervous" for opening night. "I really hope people enjoy it and show up. I know it's an ongoing problem for the drama department where sometimes we dont get as big a turnout of an audience as we want, but I'm pretty excited," said Cardenas. "I want you to know that the drama department puts on amazing shows and I think everyone should experience at least one of them in their highschool career," said Sherman.