Earthquake safety in cougar country
Is VHS ready for a major earthquake?
At 4:25 p.m on Feb. 10, Ventura was affected by a 3.9 magnitude earthquake that struck near Santa Paula. There was no reported damage, but it led to another question. How prepared are both Ventura and Ventura High School for the next major earthquake? 
This hypothetical major earthquake is often referred to as "the big one." This earthquake would be of magnitude eight or greater and cause severe damage to buildings/infrastructure. The last earthquake of that magnitude was the 1906 San Francisco earthquake, which caused at least six billion dollars in damage. More recently, however, was the 1994 Northridge earthquake, which caused heavy damage to infrastructure. VHS science teacher Christopher Jaquette said, "I do remember [when the 1994 Northridge earthquake occurred] that interstate 10 fell."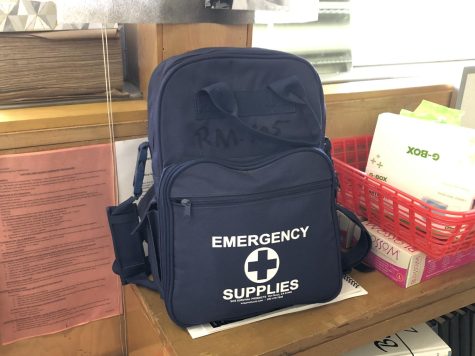 The Ventura County fire department has an earthquake preparedness plan (what Ventura county residents can do in preparation for an earthquake and what to do after an earthquake). The city of Ventura has a similar plan, which includes the "Drop, Cover and Hold on" action. 
VHS Earth science teacher Heather Miyata said, "I tell my students that it is VERY important to have an emergency plan with their families in case something happens during school. What people don't always think about is that if there is a massive earthquake our cell phones won't be reliable so trying to call someone and meet up won't work. It's important to have a meeting place with your family so that everyone knows where to go no matter what."
VHS has an emergency plan for a variety of different scenarios, including earthquakes. VHS' emergency plan for earthquakes is for students to perform the "Duck, Cover and Hold" action and to stay away from buildings, trees and fences. 
Miyata said, "Most of our buildings are single-story which is much safer in an earthquake and our campus is spread out which allows for more open space between buildings. The next big earthquake is maybe not super near, but definitely in the future. If we keep having small quakes like the one we just had, it reduces the potential of a larger earthquake. Think about shaking a soda bottle. If you slowly release the pressure when you open it you avoid the explosion but if the pressure builds and it opens at once, that's the danger!"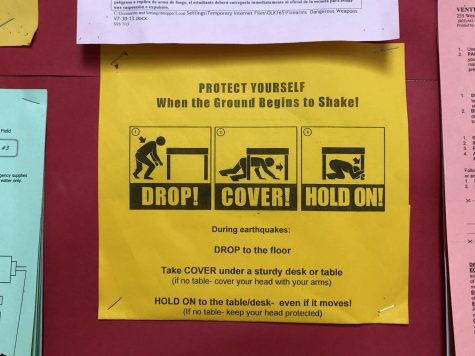 Senior Destinee Grower isn't worried about a major earthquake hitting Ventura, but believes that VHS would not be a safe place in that event. Grower said, "I feel like a lot of people would be freaking out and it would get too chaotic." In the case of a small earthquake, Grower thinks that regular protocols would be followed. She believes that during a small earthquake, similar in magnitude to the 3.9 earthquake that took place on Feb. 10, there wouldn't be any reaction from students.
California is a state that is highly prone to earthquakes. Current technology cannot accurately predict earthquakes beforehand, so preparations in case of a disaster are made in advance.