Ventura Baseball strikes out
Ventura Junior Varsity Baseball teams suffers a 5-1 loss against the Simi Valley Pioneers, cementing a losing streak
Ventura JV boys Baseball lost (1-5) to Simi Valley this Tuesday. At the top of the first, Simi Valley pulled ahead with three points to Ventura's zero; Ventura boys held them off for another six innings, with Simi Valley only gaining two more runs to win the game. This brisk cold game, had people on the sidelines bundled up as the baseball players struck out on the field. This was the JV Simi Valley team's second time playing this season, their first time against Birmingham High School, where they won with a score of 9-0. The Varsity team for Simi Valley played against Ventura the day before (2/15/22) and secured a win of 3-2. The last time Ventura boy's JV played against Simi Valley they lost their home tournament with a score of 8-5.
Simi Valley is a formidable opponent and with the harsh conditions, including cold weather and howling wind, a tough game was made even harder. At the start of the game, 3 p.m., the wind was 24 mph and later reached 26 mph. The JV coach for Ventura, Carlos Perez, thought the wind affected the game "immensely." Perez said, "I think more the cold wind. But you know, the other team had to play in the same weather." This was the first time that the JV Cougars and Pioneers went head to head this year.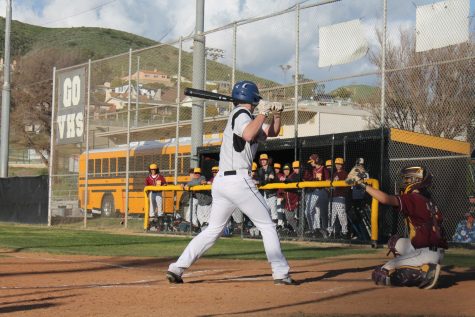 Another noticeable part of the game was how vocal the players in the visiting dugout were. Constant shouts of encouragement and advice were coming from the Pioneers. When asked about it, Perez said, "What I tell my guys is if we want them to be quiet, then we need to beat them and if we don't do that then we are allowing that to happen. It is what it is. It is just [Simi Valley's] team make up. They are just those kinds of people. I'm against that stuff. I like to play classic baseball and control my guys and do our talking on the field." 
Perez feels that his team has room for improvement. "We are struggling figuring [pitching] out," he said. "I never like to make excuses. I do feel that our umpire struggled a little bit. From what I understand, they won 9-0 in their previous game. I believe we gave them 2 if not 3 unearned runs. We gave them two unearned runs and I think had we not given those early runs it would have been a different ball game."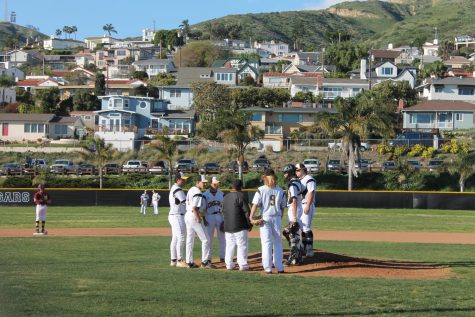 Junior and second baseman for the team, Carlos Perez, shared his feeling about the game. "I could have played a lot better. I made a lot of errors and mistakes. I'm not very happy right now with myself, but it's just something that I need to work on and I'll get better on. Hopefully, by Thursday I'll be better and just 100 percent." On ThursdayFeb. 17, both VHS's varsity and junior varsity baseball team's have tournaments.