Simulating the United Nations
A perspective on the Model United Nations club
The Model United Nations club, also known as Model UN or MUN, is a club at Ventura High School. The club has been around since 2015 and it has nine members as of March 6. 
MUN meets every second and fourth Thursday of the month in room 102. The club is advised by English teacher Elizabeth Mainz. Its president is sophomore Emily Sehati. The 2021-2022 school year is Sehati's first year as MUN president, a position previously held by now VHS alum Talia Wilcox. 
Sehati said, "MUN teaches skills that can be used beyond the classroom. Students learn how to express themselves professionally, research and become educated on past and present matters, practice public speaking and learn the ability to look for solutions and compromises."
During MUN meetings, members participate in both moderated and unmoderated caucuses. A caucus is a discussion session where participants decide on a strategy or response to global affairs, similar to the real United Nations. Moderated caucuses are overseen by a moderator and "delegates" are given the floor with limited time to speak. Sophomore Katie Wicks, who is a MUN member, said, "unmoderated caucuses are like Locher fishbowls on steroids."
Junior Siena Cherry, who is vice president of MUN, said, "I have been in MUN since my sophomore year. I love all the people you meet at conferences, and how we discuss and stay on top of current political and global issues."
Model United Nations conferences are events where international students partake in a simulation of the United Nations. They tackle a central issue and pass resolutions in an attempt to solve the issue. Participants are given countries to represent. MUN members must attend at least one Model UN conference per semester. Model UN conferences are held by the Model United Nations Institute.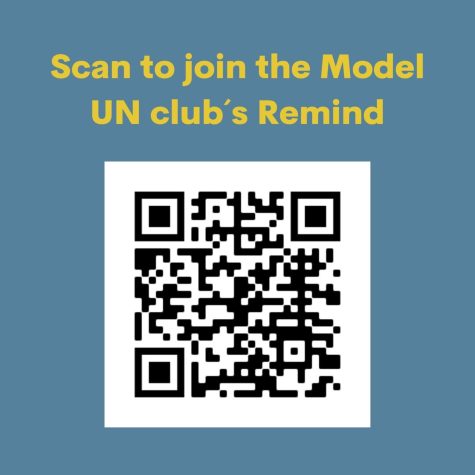 Cherry said, "I have only attended [MUN] conferences on Zoom. I believe last school year I went to three online conferences."
Sehati said, "Beyond public speaking, MUN teaches students how to research topics, debate points, how to improvise and compromise, and most importantly, to be educated on relevant issues in today's world. I feel like more than ever, the need to be educated on international relations is becoming bigger. MUN gives students the ability to think of solutions and compromises and look at past events and resolutions to reach a conclusion."
Sophomore Mia Kish, who is in MUN, said, "I would definitely recommend the club to others, it's helped me learn a lot of new skills. MUN has improved my public speaking skills, and allows me to learn about current events."
To join Model UN, VHS students can go to Mainz's classroom (room 102), or contact Sehati. The club's Remind class code is 7fakd3. Their Instagram handle is @modelunvhs.