Interact Club interacts with the community
Community service initiatives at Ventura High School and beyond
Based out of the Ventura High School College & Career Center (room 106), the Interact Club is a club that focuses on community service within the VHS community, in addition to building leadership skills among its members. It has 30 members, with 10 of those members sitting on its board. 
The club's leadership include seniors Grace Morton and Juerta Pirraci, who are both co-presidents. Also among its leadership are sophomore Sonja Stilwell (vice president), seniors Jayla Ramirez (event coordinator), Elizabeth Gonzalez (secretary), Malia Page (treasurer) and Tatumn Morales (event coordinator).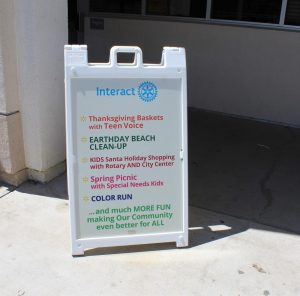 Morton said, "The purpose [of the Interact Club] is to create leadership experience and to reach out and help out our community. We really want to create a tight knit feel where we can get together and help out people in our community."
Interact Club meetings are split into two categories (general and board). At general meetings members discuss who will volunteer for each planned community service event, in addition to deciding what events the club will participate in.
College & Career Counselor and Interact Club advisor Patricia Roberts said, "Interact Club is a service and leadership club. It's the student group for Rotary International. The name 'Interact' came from combining the words International and Action."
Morton said, "At our board meeting we discuss orders of business such as how much money we want to spend on certain items and events. We decide on what events we want to do throughout the year and coordinate who on the board will take on certain tasks. At guest speaker meetings we have pizza and invite a guest speaker to talk about their life experience."
Junior Tiera Walsh, who is an Interact Club member, said, "I joined the club my freshman year. I think Interact is a great club, I really like how many community services events and other opportunities it provides. I would recommend others join Interact because it not only gives them great community service and leadership opportunities, it also looks good on college applications, and you get free pizza on the last meeting every month."
The club primarily obtains funds from fundraisers such as the Food Faire and bake sales. Sophomore Emily Sehati, who is an Interact Club member, said, "What's most unique about Interact Club is that it's a club that is used on a more global scale so I'm able to meet with businesses and members that are local and international."
Roberts said, "Interact Club is a very active club on campus. We host a Valentine Dance (February) and Spring Picnic [April 29] for students with special needs on our campus. We also provide volunteers for local charitable events including the Lincoln Elementary School carnival, Ronald McDonald Walk for Kids [April 24], Color Run, etc. We also had a successful canned food drive in December. Plus many other smaller acts of service like making homemade cards for seniors and cancer patients, etc."
The club's Instagram handle is @interactventura. It has been at VHS for many decades, but its exact origin on campus is unknown. The first Interact Club was started in 1962 at Melbourne High School in Melbourne, Florida.
Roberts said, "Our club is always open for new members. We have general meetings the first and last Tuesday of the month during Lunchtime in the College & Career Center (room 106). We also have board meetings on the second Tuesday of the month. Students can also join our Remind code (@a223gf) for updates about meetings and events. To become an official member, students need to complete a simple application form and pay $5 at the student store. Members also receive an Interact T-shirt."