Student feature: Tobias Raymond tackles his future
Junior Tobias Raymond on his football career and scholarship offers
On May 2, junior Tobias Raymond received a scholarship offer from Yale University. He also has received offers from UC Berkeley, Oregon State University, San Diego State University, Washington State University, the University of Arizona, Colorado State University, CSU Fresno and the University of Nevada. 
Raymond, "It was pretty exciting [to receive offers from colleges]. I never really thought about it, so I wasn't expecting it. Right now two of my most top interested colleges are Yale and Berkeley. Yale and Berkeley have a very good education system and they both are very good football teams so they give me good academics and a better chance to make it to the NFL."
Raymond has been playing football since eighth grade. In Nov. 2021, he received the CIF Lineman of the Year award. Then in Dec. 2021, he was selected for the All-Ventura County Football Coaches Team as an offensive lineman. Previously, Raymond has also played basketball, soccer and baseball. 
Raymond, "I started with O-line and D-line [in eighth grade]. Then during my freshman year, I played tight end, long snapper and defensive tackle. Then I got pulled up to varsity for the last game of the season in the playoffs. I got two sacks on varsity. I have started on varsity since."
During the 2021-2022 VHS football season, Raymond played an offensive tackle and defensive lineman position on the varsity team, with his jersey number being 76. He will play the left tackle and defensive tackle positions for the 2022-2023 season. He also hopes to play defensive end.
Junior Nick Thomas, a friend of Raymond, said, "I've known Tobias for 11 years. I think the offers Tobias has are really deserving, everything he's been through to get where he is has paid off and it's inspiring to everyone else. Tobias is a leader on and off the field and he's like a brother to the whole team."
VHS head football coach Tim Garcia said, "I'm happy for Tobias. He is blowing up with offers to play Division 1 football. Because of that, he will have great options to choose from as he goes through the recruiting process. He is mature for his age, and faces adversity head-on. He is well-liked by his teammates, classmates and staff on campus. He is a positive leader and individual."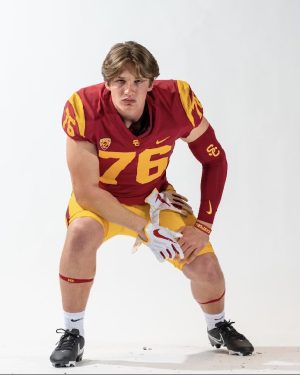 Raymond said, "By my senior year I hope to be committed to a college. I haven't committed to a college yet, but I will go undeclared my first year because I'm not exactly sure what I want to do. Once I get there I'm just going to work hard to get my degree and possibly get a chance to play football after college."
Junior Aiden Marin, a friend of Raymond, said, "Tobias has a bright future. I can't wait to see my friend at the best D1 college in the nation playing football and dominating everyone. If Tobias keeps working hard and pushes himself to be the best possible person he can be, he will go far, not only in football, but in life. And I truly believe Tobias is NFL caliber but that's for him to keep on grinding."
Raymond aspires to become a professional football player. If that doesn't come to fruition, he would like to work in sports medicine or a career related to football. Raymond said, "[Sports medicine is] something I've thought of before. It's just a way I could stay around athletics and it seems like an interesting job."
Raymond said, "I think I can thank my coaches [for the CIF award]. They helped a lot. I was also lucky because of how good my team was. My family really pushes me to be better. I know they all want me to do well so I push for them. Also, football is something I love and I really want to succeed."