What's rolling with Ventura's local robotics program?
A look into Ventura's Team 4414 HighTide robotics program.
Team 4414, also known as HighTide, is a robotics team that was created in 2018. On their website they state, "[HighTide] provides opportunities for high school students from all around Ventura County, CA to participate in a competitive and meaningful way through the FIRST [For Inspiration and Recognition of Science and Technology] robotics competition." 
Junior Burton Sessa said, "The backstory of this team is that my brother, J.J. Sessa, used to mentor for [the] VHS's robotics team. He decided to go a separate way, so he started his own team HighTide. It took over a year to get running."
Sessa along with freshman Alisha Ali both are a part of team 4414. Ali said, "I was in robotics throughout middle school and heard about 4414 through that." Team 4414 has high school students from around Ventura and has three students from Ventura High School. The team is also sponsored by companies like The Lawrance Thomas Memorial Fund, Sessa MFG, Google and Gene HAAS Foundation.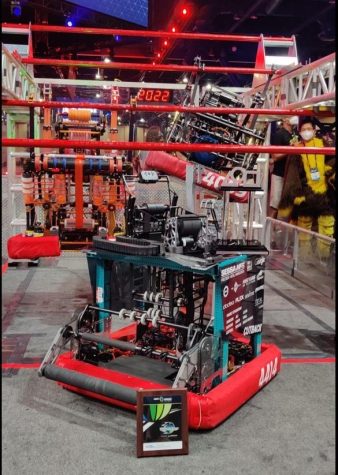 "High school robotics competitions [is] basically [where] 60 teams go to a competition for a regional. They compete with a robot you make over the span of like six weeks," said Sessa. Participating in these events can help participants explore engineering fields and help students earn scholarships.
The game that teams were assigned to compete in this year was called RAPID REACT. How the game works is that there are two alliances of three teams, they each compete to get balls into an upper and lower hub (like a basket). The upper hub is two points and the lower is one, teams can earn extra points if their robots can travel on the rungs of their hanger (where the robot climbs). To see a visual animation of the game check out this video from the FIRSTRoboticsCompetition's Youtube channel. 
"At Worlds, I think there are about 457 teams [that compete]," said Sessa. They release what the game is going to be in the Jan. of each year the competition takes place. They have time to design, build and test their robots before the competition. Thousands of teams from all over the world compete in the competitions each season.
The 4414 team competed in three regional events. One is the Hueneme Port Regional where they won multiple events. They started in the FIRST Robotics Competition, proceeded into the 2022 FIRST Championship, and then they were in the Einstein Final Tiebreaker. "We competed in our division and won at Worlds [FIRST Championship] and then we almost won Worlds, we were finalists," said Sessa. They earned four banners as well this season and will be participating in three off-season tournaments this fall. One of these tournaments will be locally at the VC Fairgrounds on October 28-30.