IDEA Center allows students to create projects
STEMbassadors provides access to technology at the IDEA Center
The IDEA Center is a makerspace center created by STEMbassadors, which is a non-profit organization dedicated to serving underrepresented communities. The IDEA Center provides access to technology such as 3D printers and laser cutters, among other often inaccessible technologies. It is located at 1264 Ventura Ave. in Ventura.
Makerspace manager Jaelen Hsu, a Ventura High School alum (class of 2020) and a STEMbassadors founder, said, "The IDEA Center is designed to help underrepresented youth access technology, enable them to create items on the technology we have here and also to sell those goods for profit. Unfortunately, one of the things about making things on school equipment is you can't actually sell it for money. So if you make something here you actually can go ahead and sell that."
STEMbassadors was founded in 2017, with the IDEA Center first opening in April 2022. However, the IDEA Center is in its beta phase and has yet to formally open. The IDEA Center will formally open on July 12 and there will be a grand opening party at the center on the same day between 5 and 9 p.m. Once open, the IDEA Center will become accessible to the general public. It will require memberships, either a day pass for $20 or a monthly pass for $100.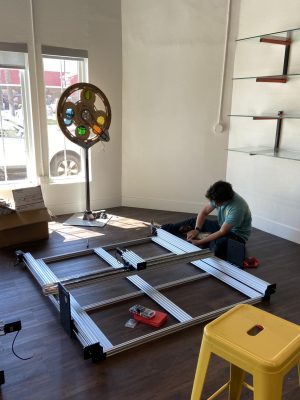 In addition to individual technological utilization, the IDEA Center will offer classes to members (after its official opening). Hsu said, "The way the classes are going to work is really interesting. Let's say you knew how to use the laser cutter and you wanted to run a class to teach people how to make something on it, like a box. You could come to me one day, and just say ´Hey, I want to run a class in the makerspace´ and then at that point we'll put you on the calendar. Any of the money that you make for the class, like if you're going to charge $20 per seat, or students in your class, you get all of that and you just pay us a fee at the end, like 10 percent or something. If you're a member, you get a discount on classes. If you're not a member, you just pay the full price fee for whoever is running the class. Because the instructors for the class are independent, it's not us running the classes, it's other people in the community, those prices are whatever they set, it's up to them. And then the only thing that we have an impact on is that if you're a member, those classes are always going to be cheaper, like we're going to offer a discount."
STEMbassadors and by extension the IDEA Center are entirely funded by grants and donations. STEMbassadors seeks to sustain IDEA Center costs via membership fees and classes. Its location was chosen for both cost efficiency and proximity to the underserved. Major IDEA Center costs include staff salaries, rent, utilities, materials and machine maintenance.
Hsu said, "We've seen kids from DATA, from the avenue, kids from Ojai and kids from Foothill all come in and use the space and be super excited about it. We haven't seen them make a ton so far, we haven't even been open for two months, we got in here two months ago and I would say like three or four weeks ago we started lugging people in as data testers. There's been some stuff that's been made. Not a whole lot yet."
Alisha Ali ´25 said, "I really hope that [the IDEA Center] influences people who live on the avenue to try something new or that they've been wanting to try for a while. It's a place where people can make their ideas into products and artwork."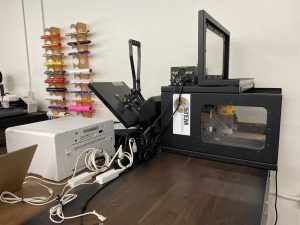 Hsu said, "I think the biggest thing that would've helped me if this was open while I was in high school was to have a place to go not just to actually have the capacity to make something but all of the technology that is in here does not exist anywhere else in the school district outside of a couple of machines at DTech and a couple of machines over at DATA. You can't get access to this anywhere else in the district, or really in the county or the city, other than here. Gaining access to it which is already a huge thing, the other thing is that all of the people who are in here staffing, not just me but the other STEMbassadors too, have an amazing amount of experience on all this technology and so if you have questions, like if you have an idea and you just want to make something, you can come here with just that and actually gain the skills to do it, you don't have to come here already knowing how to do it."