Opinion: Gun shows should continue at the Ventura County Fairgrounds
United States citizens have the innate right to assemble and bear arms
On July 21, California Gov. Gavin Newsom signed California Assembly Bill (AB) 1769. According to the Office of Governor Gavin Newsom, "[AB 1769] prohibits the sale of any firearm, firearm precursor part, or ammunition on the property of the 31st District Agricultural Association, the Ventura County Fair[grounds] and Event Center." The 31st District Agricultural Association manages the Ventura County Fairgrounds and Event Center, and is owned by the State of California. AB 1769 was first introduced on Feb. 2 by Steve Bennett, a Democratic state assemblymember representing state assembly district 37, and Monique Limón, a Democratic state senator representing state senate district 19; both districts include Ventura and its surrounding communities. The bill will be enacted on Jan. 1, 2023, if it survives potential legal challenges.
AB 1769 is a government overreach in violation of civil liberties. Gun conventions must be permitted in public spaces, lest the government have the right to prohibit certain groups from using said spaces, effectively censorship by assembly restriction. The gun show debate goes beyond physical firearms; it is primarily a question of human rights. It is comparable to abortion rights in this sense. While abortion and gun shows have little in common within themselves, the nature and effects of their prohibitions are in the same vein.
The comparison between gun shows and abortion rights is intended to illustrate problems with governmental restrictions. It also mitigates any political reservations on either side of the political spectrum (ex. a hypothetical liberal who is pro-choice and anti-gun show, a hypothetical conservative who is pro-gun show and pro-life) in favor of Realpolitik. This concern is not arbitrary, as the most recent Democratic Party platform (2020) supports abortion and gun restrictions, while the most recent Republican Party platform (2016) opposes abortion and gun restrictions.
Elenoa Silikula '25 said, "I think [gun shows] promote usage of guns and many age groups attend the Ventura County Fairgrounds there for its influence on a lot of people, many being children. [This] shouldn't happen. Guns are very powerful weapons that are being normalized and downplayed in society. It can and has taken so many people's lives. Showing it off at a fair to people is just promoting its usage and we as a community shouldn't be doing that."
Joseph Wronkiewicz '23 said, "Gun shows don't allow customers to have access to weapons and ammunition at the same time, so the events themselves aren't dangerous. They don't provide any opportunity to work around the law since background checks, waiting periods, and all other restrictions still apply. I don't think there's any benefit to regulating events at the fairgrounds since those events haven't been causing any problems for public safety."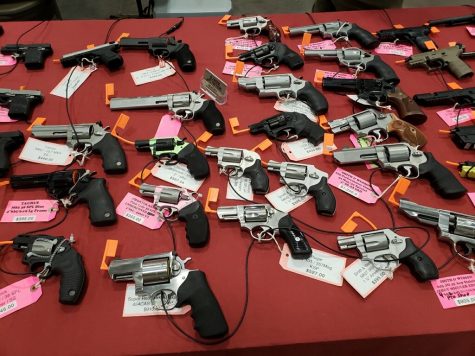 Both anti-gun show and pro-life arguments are often justified by virtue, specifically a deep sense of altruism and a desire for safety. They often disregard freedom as a consequence. The pro-choice and pro-gun shows' positions are similar. They are founded on freedom and justify themselves through civil liberties. This calls the balance between freedom and safety into question. The two are not intrinsically mutually exclusive, but they are in the context of these two issues. In the case of gun shows, a clear balance must be determined. AB 1769 overwhelmingly tips the balance towards safety at the expense of civil liberties.
In a July 21 press release, Bennett said, "Unfortunately, the U.S. experiences far more gun violence per person than virtually every other modern industrialized country in the world. And what accounts for this? The U.S. has one of the most pervasive gun cultures in the world supported by a powerful gun lobby. Gun shows at the Fairgrounds enhance this and it is time for each of us to play a role in changing this culture."
The U.S. does experience more gun violence than other nations in the global north. However, Bennett's interpretation and ultimate actions through AB 1769 are not justified. The prohibition of gun shows is extreme as it tips the balance between freedom and safety, overwhelmingly towards the latter. Gun control, as in regulating gun sales and their platforms, such as gun shows, has been shown to be effective in reducing gun violence. Gun show bans are anything but gun control. They remove a marketplace that could be controlled for potential offenders. Instead, AB 1769 strengthens illegal gun sales by removing a legal gun medium. It is special pleading for this relationship to be widely accepted in various other subjects (abortion, alcohol, drugs, etc.) but not in relation to guns without evidence to the contrary. When the legal availability of a desired product or service is restricted, alternative and illegal sources fill the gap.
While AB 1769 prohibits all gun shows from taking place at Ventura County Fairgrounds, it most notably prohibits Crossroads of the West Gun Shows, which have taken place there for about 10 years. Crossroads of the West Gun Shows Vice President Rob Templeton said, "Many law enforcement agencies like gun shows because it provides a prescribed area where gun sales are taking place. Law enforcement can keep a close eye on everything. Gun shows are required to follow all laws and regulations that brick-and-mortar gun shops are required to adhere to. This includes federal background checks on all individuals wanting to purchase a firearm and the 10-day mandatory waiting period. There are no newly purchased guns leaving gun shows."
Templeton said, "AB 1769 has been in the works for some time. [Gov. Newsom] signing it does not come as a surprise. Him signing it allows us to press forward with a lawsuit. Prohibiting gun shows is a direct violation of our constitutionally protected first amendment right to assembly. We will go to court. We will win. We already did in Del Mar. The Del Mar Fairgrounds would not provide us contracts for over a year to try to strangle our business. They eventually ended up having to pay more than half a million dollars having lost their court case. Sometimes they don't mind going to court even though they're likely to lose because it's not their money they're wasting, it's the taxpayers´ money."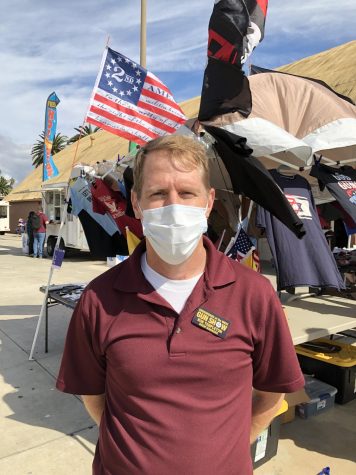 In 2019, the Del Mar Fairgrounds in Del Mar, Calif. attempted to cancel several Crossroads of the West Gun Shows scheduled for 2021. This was because of a planned law that was nearly identical to AB 1769: AB 893. AB 893 sought to outlaw firearm and ammunition sales at the Del Mar Fairgrounds and was set to take effect on Jan. 1, 2021. Crossroads of the West Gun Shows sued the fairgrounds in early 2019. In April 2020, the lawsuit was settled and required the fairgrounds to pay Crossroads of the West Gun Shows over $500,000. It also allowed for the continuation of gun shows at the fairgrounds. Whether or not AB 1769 faces the same fate has yet to be determined, but it is another battle in the war to defend gun shows from an ever-hostile state government.
It is important to note that both the Del Mar Fairgrounds and Ventura County Fairgrounds are virtually owned in entirety by the state. They are both run by a board of directors that are appointed by Gov. Newsom. It is not a private business but the property of the government. Therefore, its citizens are entitled to use such spaces as long as it is legal. AB 1769 seeks to shrink legal confines against gun shows without appropriate justification. 
The Ventura County Fairgrounds should remain available for gun show use. Legislation such as AB 1769 should cease to be proposed in the state legislature. California voters should have to approve any decisions regarding fairgrounds availability by referendum. At the moment, there is a petition to allow gun shows to continue at the fairgrounds. Freedom and safety must be balanced for either to remain, which is especially relevant to the gun show question.