VHS students take on Europe
Cougars explore a new continent during summer trip
 The Ventura High School summer trip returned for its fifth year after a one year hiatus due to the COVID-19 pandemic. After traveling to places like Costa Rica, Peru and Panama, they headed east for Europe. VHS students took a trip from June 28 to July 18 in two separate groups. One was with science teacher Karen Reynosa, accompanied by a total of 30 seniors. The other was with math teacher Logan Norris which had about 50 students and five chaperones.
Reynosa's group traveled to The Netherlands, Germany, Italy, England and France. Norris's group traveled to England, France and Greece. The reason these two groups were separated was due to Reynosa's group being unable to do the trip the previous summer due to the COVID-19 pandemic. 
Reynosa's group ran into some problems before they landed in Europe. Reynosa said, "We flew into Toronto so we could fly into Amsterdam, but we got stuck in Toronto for two days." 
Rachel Gonzalez '22 said, "While we were stuck in Toronto it was very scary. We had no idea if we were going to get on a plane. We spent two nights sleeping on the floor of the airport not knowing if our trip was canceled or not. Many of us tried to stay awake the first night. After hours with no luggage and no direction we gave in and fell asleep."
Norris' group landed in England on June 29, and toured the country for four days. They visited landmarks like Big Ben, the Tower of London and the Piccadilly Circus.
"I think that the adults on the trip were very fair with free time and were not overbearing at all. They monitored the group very well," said Cooper Conrad '23.
Once Reynosa's group landed in Amsterdam on July 14, they proceeded to explore the city until they traveled to Munich on July 15 to continue their journey.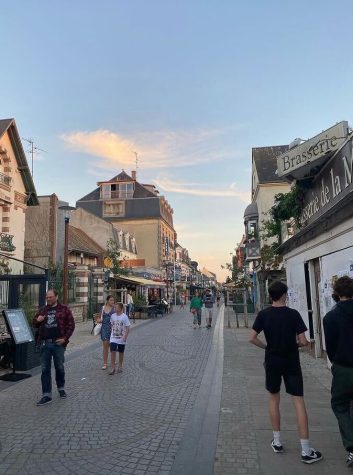 Reynosa said, "[The Europe trip] was fantastic. It was so cool and seeing it with the kids was just amazing. This group of kids were the best group I've ever had." 
Among those in Reynosa's group was recent VHS graduate Lucy Growdon-Stark '22. Growdon-Stark said, "My top three moments over the trip were watching the Eiffel Tower light up at night, swimming in a lake in Switzerland and getting lunch with my friends in Innsbruck, Austria." 
Gonzalez said, "Europe was incredible, however the way we traveled was very hard on all of the travelers. We were always on the go. There were some unforgettable moments during the trip. I would say we spent more time traveling than we did in the actual cities." 
Growdon-Stark said, "Even with our struggles in Canada, we all managed to enjoy the trip every possible moment we could. We got to see incredible sites, spend time with amazing people and get a glimpse of some breathtaking culture that you can't find in America."