Winter sports start in full force after fall break
The transition from fall to winter sports spoken on by VHS athletes
Winter sports will take over sports at Ventura High School for around the next four months. Winter sports include boys and girls basketball, boys and girls soccer, girls and boys wrestling and girls water polo. As fall sports come to a close or prepare for CIF, winter sports are beginning to prepare for their season to begin. 
 Kaya Fraser '24 plays a forward position on the varsity girls soccer team. Fraser said, "I am a little nervous, but I'm excited [for the season]." 
The varsity girls soccer team has begun practice every day after school for two hours in preparation for their season. Fraser shared that her goal for the season was to make the playoffs and CIF.  
"I really liked Soccer Sisters (a team bonding type of activity that several sports have). It's always fun. We like to bring each other candy and write notes," Fraser said. 
Jasmine Moore '25 plays power forward on the girls basketball team. 
Moore said, "My biggest goal for the season is to just overall get better. I don't have a specific goal, but I think just overall better playing and better focus on the game." 
The girls basketball team started official practices Oct. 31. They practice Monday through Saturday every week. 
"I just transferred [to VHS] this year so playing with a new team is what I'm most excited for," said Moore.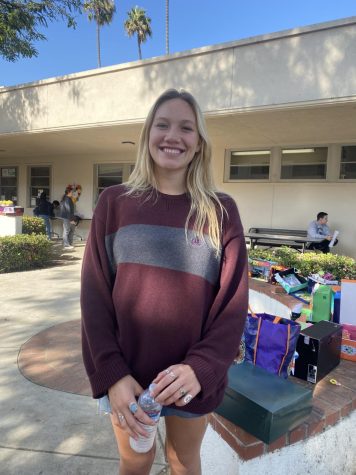 Isabella Coleman '25 said, "My practice schedule is at least five times a week and we have morning practice and afternoon practice. What stops me from burnout is probably just hanging out with my friends on the weekend and taking occasional breaks. But I love water polo, so it's fine." 
Coleman's goal for this season is for her team to make it to at least round two of CIF, as well as work on improving her skill over the course of the season.
Boys basketball has also just begun their practices to prepare for their first home game on Dec. 5 against Pacifica High School. 
Jake Auster '24, the point guard on the varsity boys basketball team, said, "I am really looking forward to this season and having our fans be able to see me and my teammates' hard work pay off on the court." 
Auster said, "My biggest goal this season is to beat Buena and put Ventura back on top for sports." 
After the winter sports season, there is a transition into spring sports. As the first quarter ends, along with fall sports, there is a large athletic transition into winter sports, which makes for new athletic events for students to attend.