Pastime Legends: a place to pass time
Local video game store and arcade showroom Pastime Legends offers a selection of gaming merchandise
Pastime Legends Video Games & Arcade Showroom is situated at 2040 E Main St. Ste. A (retail suite) & B (arcade suite) in Ventura. The retailer sells video games (with a focus on retro video games), video game accessories and arcade machines, as well as purchases and trades items with customers. The arcade showroom features about 40 arcade machines and has an entry requirement of a $5 minimum purchase in proprietary tokens sold at the retailer.
Pastime Legends opened in 2016 exclusively as a video game retailer. In 2020, the arcade showroom opened as a subsidiary section of the business adjacent to the store. Joseph Pirro founded Pastime Legends after opening several locations on the east coast of the U.S. Current Pastime Legends owner and sole employee Michael Ahrens purchased the business from Pirro shortly after the business' opening because it was at risk of closure. Outside of name and branding, the Ventura Pastime Legends location has no connection to other Pastime Legends locations.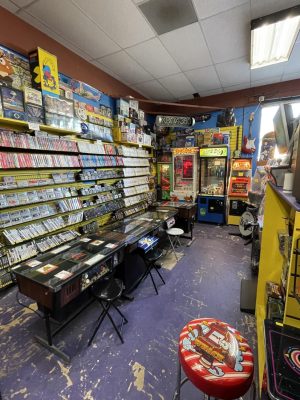 Ahrens said, "I started working here shortly after the store opened and was given the opportunity to purchase the location because the original owner was never planning on running a store on the west coast [while running] three on the east coast. He had a friend that came and opened up this location and basically wasn't able to make it work. So basically, he was going to shut the store down if I didn't buy [it]."
Pastime Legends has hundreds of thousands of items in its inventory, partially because Ahrens agrees to purchase 500 to 1,000 items from customers weekly. The business then sells the majority of its purchased items and stores the rest in its storage room for a later date.
Pastime Legends owns over 70 arcade machines, though not all are operational. In addition, many machines remain in storage because they are too large to be moved into the arcade showroom.
Ahrens said, "We're continuing to curate new arcade machines every month. Eventually, we, want to move all these machines to a bigger spot, possibly a barcade or something like that, something with 150 to 200 machines that has big double doors where I can bring the big machines."
Pastime Legends encompasses about 2,000 square feet of land, not including its storage room, with the retail store and arcade showroom filling a similar amount of space. The storage room contains all retail items and arcade machines that cannot fit in the store or showroom.
Pablo Torres '24 said, "I first visited Pastime Legends last year, and I was amazed by all their products. I went looking for a video game for the original Xbox, I did not find what I was looking for but the worker was nice and helpful."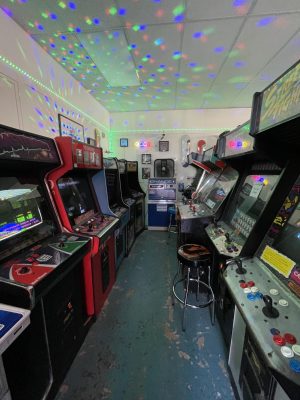 Ahrens said, "[Pastime Legends] is a very niche business. [It's] definitely not easy. I think the reason why you don't see a whole lot of video game stores out there is [that] it's a really tough business to run. You have a small audience. There are not a lot of people who are into collecting older games, not as many as you would need for a business like this to be super successful. That's the reason why the original [owner] wasn't able to make it work. He didn't last six months. Six months into his opening out here, he was ready to throw in the towel and go back to New York. That's why the owner hired me and then realized that I was able to make it work and then offered to sell me this location."
Ahrens claimed that the arcade showroom at Pastime Legends functions as a loss leader as it attracts customers to the retail store despite being unprofitable due to high electricity and maintenance costs. In reaction, Ahrens began requiring a $5 minimum purchase in tokens to enter, which has helped him save hundreds of dollars in electricity costs. Conversely, video game consoles are the most profitable item sold at the store.
Ahrens said, "We're at the point to where it's starting to somewhat break even, but at no point as the arcade made even a single dime. We weren't allowed to have the arcade open for over a year after the [COVID-19] pandemic after we had moved all the machines into [the arcade showroom]. It was really tough for us."
Pastime Legends is open on Tuesdays, Wednesdays and Thursdays from 12 to 6 p.m. and Fridays and Saturdays from 12 p.m. to 7 p.m. and Sundays from 12 to 5 p.m. The business is closed on Mondays.