Third upsurge of fentanyl hits the streets of LA
Major outbreak of fentanyl in its third wave of the opioid epidemic
On Oct. 19, approximately 12,000 pills of fentanyl were seized at the Los Angeles International Airport. According to an article written by ABC 7 News, "The opioid pills were contained inside packages of Skittles, Whoppers and SweeTarts candy." Although the suspect managed to flee, he has been identified and is currently wanted by the authorities. Besides the LAX fentanyl bust, earlier on Sept. 24, the Pasadena City Police Department announced that they had seized more than 300,000 pills of fentanyl, which included several packages of "rainbow fentanyl." 
Dubbed "rainbow fentanyl" by the media, this new method is being used by drug cartels to sell highly addictive and possibly deadly fentanyl to make it look like candy to children and ng people. According to the CDC, fentanyl is a "synthetic opioid, approved for treating severe pain, typically advanced cancer pain. It is 50 to 100 times more potent than morphine." Fentanyl is a drug so deadly that it can kill a person in a matter of seconds. 
According to an article written by the DEA, from the January of 2021 to January of 2022, 107,375 people died of a drug overdose in the U.S. and 67 percent of those deaths involved synthetic opioids like fentanyl.  
The Ventura County Office of Education has joined state health officials in warning schools and families about the new and dangerous version of the drug known as fentanyl. In an article published by Ventura County Office of Education, Ventura County Superintendent of Schools Dr. César Morales said, "I encourage parents to have meaningful conversations with their children about the dangers of fentanyl. They need to be aware that even small quantities of this drug can have deadly consequences."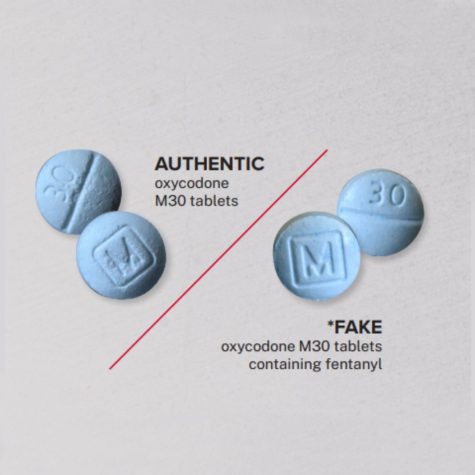 Evana Tarcha '25 said, "I don't like the idea of the fentanyl candy [because] it's endangering and not safe for little children. I feel like kids should not have to worry [about] their candies being drugged."
VHS science teacher Schatzi Sovich said, "I am aware of the candy colored fentanyl pills. This topic is all over the news. Opioid use, both legal (through prescriptions) and illegal (on the black market) is out of control. As both a teacher and a parent, I believe it is important to talk to our students and children about the dangers of opioids."
As part of the "One Pill Can Kill" initiative, the DEA and its law enforcement partners seized more than 10.2 million fentanyl pills and approximately 980 pounds of fentanyl powder and pills during the time period of May 23 through Sept. 8. The amount of fentanyl taken off the streets during this outbreak is equivalent to more than 36 million lethal doses worth of the drug.