A look into Mi Sendero
Mi Sendero is a club that invites anyone and everyone who wants to learn either English or Spanish
Mi Sendero is a Ventura High School club that holds multiple activities that allow native Spanish speakers to improve their English while also helping those who are trying to learn Spanish improve their abilities. The club also helps members advance their communication skills and leadership opportunities. 
Mi Sendero Advisor Emily Brandvica said, "[English learners] learn that they have a lot to give to our community and school and not just [to] learn, but [to also] learn English from the students that [they] are teaching Spanish." 
Mi Sendero President Faviola Santivañez '24 said, "[We hold] activities that are creative so that students get interested in exchanging languages, cultures and life experiences. We try to make it as easy and fun as possible so that they can also find our club as a safe place where you can go, create new friends and learn even more." 
The activities change on a weekly basis. They include having students in small groups with a day of Spanish speaking activities and having the next with only English activities. This gives students the opportunity to interact and communicate with others, as well as wanting to learn more and finding the similarities and differences in each other's cultures. Other activities include teaching each other how to dance traditional Hispanic dances, pizza parties and many other games. 
Mi Sendero member Justin Lisle '24 said, "It's a really great opportunity to not only exercise your Spanish skills and gain knowledge, [but to] also get to know a side of the student body that you likely wouldn't react with much because of the language barrier."
The club originated at Dos Pueblos High School in hopes of English learners being able to teach their own language. They pitched the idea to other schools and VHS agreed to continue Dos Pueblos activities.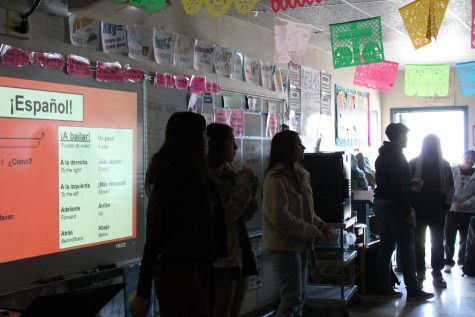 Brandvica said, "English learners at [DPHS] started it and they [had] ideas for activities and [VHS] learned about it." 
Santivañez said, "We started with the idea of ​​having a good time at school and meeting more people who speak Spanish, but [then] we decided to make it bigger [with] inviting students to exchange cultures and languages ​​through fun activities." 
The Mi Sendero club was created at VHS during the 2022-2023 school year. The club meets during lunch every Wednesday in room 119.