Chess Club in the second year of its modern iteration
A perspective into the Chess Club
Chess Club President Riley Simpson '24 founded the Ventura High School Chess Club early in the 2021-2022 school year with math teacher Preston Biller as its advisor. For the 2022-2023 school year, the club moved to the VHS music room, and Paul Hunt became the club's new advisor. The club meets during lunch Tuesdays and Thursdays. Aside from Simpson, there are two club leaders: Chess Club Vice President Jade Reily '24 and Chess Club Treasurer Karsten Vivan '24.
Simpson said, "This chess club was started in my sophomore year. Mr. Biller [said,] 'Hey, I notice that you like to carry around a chess board. Would you be interested in starting a new chess club?'"
The current Chess Club was preceded by a chess club managed by the VHS Music Department. It became defunct due to low participation.
Simpson said, "There's a lot more space and tables [in the music room]. Mr. Biller's room is just a little more restrictive with seating. Also, Mr. Hunt's father was a chess master, so we'd thought it'd be good to have somebody who really knows the game to watch over the club."
About 10 people regularly attend Chess Club meetings. However, the club does not mandate meeting attendance as it allows casual membership. People do not need to sign-up for the Chess Club to attend its meetings. 
Simpson said, "Just show up. It's nothing serious. If you enjoy the game all you have to do is show up. We have enough boards for you to just drop in and play a game. It's fairly casual."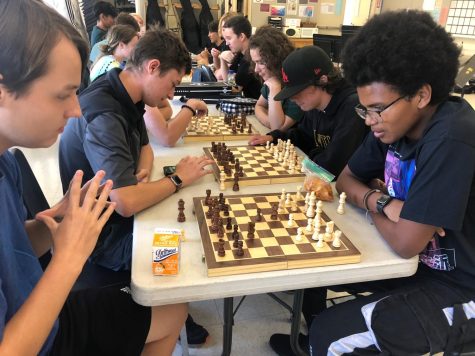 Simpson said, "We come here during lunch. We'll play as much of a game as possible with the 30 minutes that we have for lunch."
The Chess Club also meets from 2:30 to 3:30 p.m. Wednesdays in the cafeteria, concurrent with the ASSETS after-school program. 
Simpson said, "Not as many people show up to ASSETS chess. I'm usually there."
Chess Club member Daniel Smiley '24 said, "I joined the Chess Club because I like class. I like learning about it and playing with others. It's an awesome opportunity for everyone to learn about chess and get better [at it]."
The Chess Club planned to hold a human game of chess on Sept. 21 on the senior lawn, but it was canceled as there was a schedule conflict with another school event. The Chess Club did not reschedule the game as a consequence of a lack of Chess Club members.