13 VHS students named California all-state musicians
VHS Music Department has more all-state musicians than ever before
13 VHS student musicians, including band, jazz and orchestra musicians, won the California all-state distinction, announced in early January. The California Band Directors Association, California Orchestra Directors Association and the California Alliance for Jazz awarded the honors.
Among the winning musicians are Bea Barnes '25, Ethan Dorsey '24, Kate Fallon '23, Emily Gonzalez '25, Brynn Gray '25, Asumi Kubota '24, Caroline Laber '25, Eva Lechner-Hill '23, Amelia McLeod '24, Addison Ragsdale '23, Mattie Rowlands '24, Josh Stewart '24 and Reese Whitley '23. 
VHS Music Director Paul Hunt said, "It's a very high number for any school to have [13 all-state musicians]. The norm for us is seven, and that's really high. Most schools are zero. A few schools have one to two."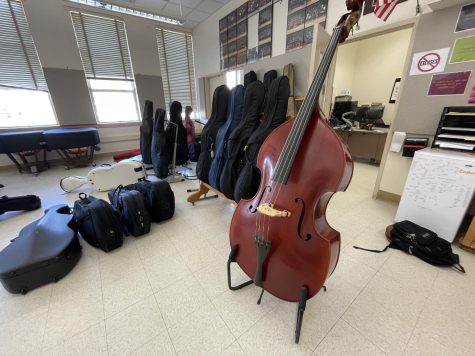 In late November 2022, 20 VHS musicians recorded their auditions with Hunt and a sound crew at a music studio at Cabrillo Middle School. They recorded and submitted auditions of five scales and excerpts from a chosen piece for their respective instruments. The judges evaluated their auditions in December 2022, and the results were announced later that month. 
Before auditioning, the musicians had to consult Hunt. If Hunt approved their audition request, they were scheduled for the CMS recording. The musicians practiced by themselves with limited feedback from Hunt.
Lechner-Hill said, "I just tried to practice [my audition] every day. [I] listened to professional recordings of the audition concerto and worked with my tutor a bit. I figured I would get [the California all-state distinction] because I could play the audition material pretty well. But I was also scared I wouldn't get it because it's pretty competitive."
Whitley said, "I learned the music over the course of a month, but it was a fresh reminder because the audition music for all-state is typically the audition music for [the] honors wind ensemble at VHS. I primarily worked on the solo repertoire and my techniques and practiced creating a tone."
The 13 all-state musicians will be able to work with professional musicians to improve their musical abilities. In addition, the honor enhances the musicians' prestige in the colleges' eyes. 
Fallon said, "It's an honor for us to represent our school and play with other great musicians our age. We get to play some cool pieces with great conductors and learn a lot."