Ballet Academy Ventura's "Nutcracker:" Behind the curtain
Ballet Academy Ventura dances their way through the 2022 Nutcracker season
Ballet Academy Ventura (BAV), one of Ventura's two ballet schools, held their annual performance of "The Nutcracker," at Rancho Campana High School in Camarillo. The show took place over two weekends, performing Saturday Dec. 4, Saturday Dec. 10 and Sunday Dec. 11 for five shows. BAV is a youth ballet school where young dancers can train and perform from ages four to 18.
"The Nutcracker," performed by BAV annually, was originally written and composed by Pyotr Ilyich Tchaikovsky, a Russian Composer. His music told the story of the original fairytale, written by E. T. A. Hoffmann. This classic Christmas story follows a young girl, Clara, who is entranced by her new Christmas present, a little red nutcracker doll given to her by her Uncle Drosselmeyer. On Christmas Eve, she falls asleep at the foot of her Christmas tree. Little does she know, the rat queen plans to take the nutcracker doll from her. Drosselmeyer works his magic and brings toy soldiers to life around Clara to help fight off the evil rat queen and her army of rats. The nutcracker doll comes to life and helps defeat the rat queen. Then, Clara and the nutcracker, now turned into a prince, follow the sugar plum fairy into the land of the sweets, where different sweets from all over the world celebrate Clara and her prince through dance. 
Ella Ullrich '23 played the Sugar Plum Fairy, Dew Drop, Snow Queen, Arabian, Columbine and Frau Stalbaum. Ullrich said, "My favorite part was spending time with all my friends. I have been dancing with Ballet Academy Ventura for 11 years, and I have been in 10 Nutcrackers."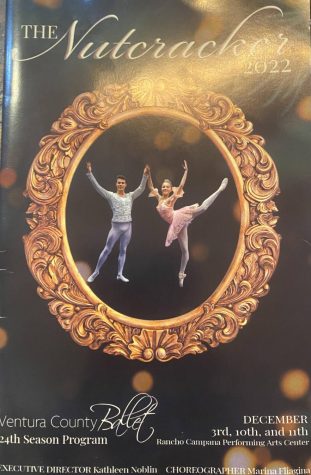 Veronika Wallach '24 said, "My favorite dance to perform was Spanish, but I think that Snow is really cool to watch from the audience's perspective." Wallach was the Spanish soloist, columbine doll, demi snow, demi waltz and party parent. 
Ballet Academy Ventura uses the Vaganova teaching method, a renowned curriculum worldwide. They provide a complete dance program from creative movement to pre-ballet to pre-professional. Their annual production of "The Nutcracker" is a display of dancers pre-K to adults performing in a variety of roles throughout the ballet. 
Because "The Nutcracker" is performed annualy, dancers get the chance to progress through roles each year and look back at their previous roles now being performed by younger dancers. 
Ullrich said, "I enjoyed this year a lot because [this] was my last one."