VHS Varsity Girls Basketball wins the first round of CIF against La Serna
 After a basketball win for VHS, the Cougars advance to the second round of CIF scheduled for Feb. 11
The VHS Varsity girls basketball team has made it to CIF finals. They played their first game on Feb. 9 against La Serna High School. The girls have won 21 games and lost eight during their entire season. They came out as first in channel league and 12th in Division 2AA. 
They battled in their first round of CIF after coming off some wins against Buena High School  and Oxnard High School. Other VHS teams that are currently in CIF are girls waterpolo and girls wrestling. The girls basketball team has also won 11 times in league and lost three times. 
Skyler Knight '24, one of the shooting guards for the team this year said, "I feel pleased about my performance tonight, got some good shots in and a few fast break lays." 
Knight said, "My favorite part of the season so far has to be when we played Oxnard for the second time. It was a critical game, deciding if we won the league or not. The intensity was out the roof, and there was a ton of pressure on me to do well. Luckily my shot was on, and we ended up winning. As a bonus, l had a season high of 34 points and I beat the school record of threes in a game." 
The score after halftime was 31 to eight with VHS in the lead.
Ann Larson is the coach of the girls basketball team. She has been a coach at VHS for 23 years. The Cougars' preparation for this game allowed them to see the outcome that they wanted. 
Larson said, "We scouted the opponent, we had about four different game films on them that the coaches all watched. [We] learned their tendencies and taught that to the kids over the last week."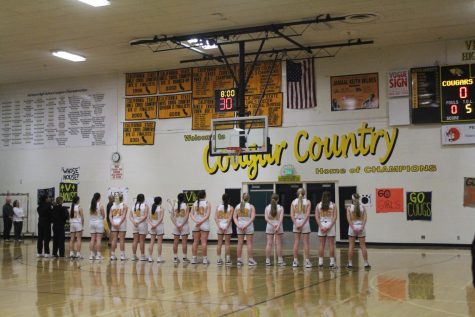 Abigail Escalante '23, plays center for the team, she said, "I would say the best part of the season was getting to play with my best friend [Ryan Maquinalez '23] and getting to know other players like Saana Jormalainen '23. Just having our senior trio has been a lot of fun." 
The team only has three seniors this year, the ratio of seniors is much smaller compared to other teams at VHS. 
"We are a very young team. They're very happy with each other, they like each other, they're a very well bonded group of players and they are having fun playing the game," said Larson. 
The game ended with a score of 60 to 16, with VHS winning. This will allow the girls to play away on Feb. 11 in their second round of CIF. 
Larson said, "[My goal for the team going forward is] to play as many games as possible. Once you lose you're done so we wanna keep playing and keep playing."