Ventura High School Mock Trial Team takes it to court
VHS Mock Trial competes against surrounding schools
On Feb. 7 and 8, mock trial, a VHS class, went to the Ventura County Government Center Hall of Justice to compete with the skills and knowledge they have gained about the world of law. The premise of their case were counts of robbery and battery, and their team was split into prosecution and defense. VHS' team faced off against teams from Simi Valley, Newbury Park, Nordhoff, Sanna Suzana and Fillmore. VHS placed three spots short of making it into the final round of eight. They were ranked number 11 out of 25 teams in Ventura County.
Violet Hurguy, a defense lawyer, said, "It was a very good experience. It was very intense. It felt like everyone had very high expectations. We were really expected to own up to what we were working towards. It was very fun. My favorite part was doing cross examinations, because during cross [examinations] you get to be aggressive towards your witness, to prove your case, and you get to ask leading questions which is always very fun to prove why you are right and they [the other team] are wrong."
The mock trial process is very similar to a real courtroom where lawyers are expected to prove their case and defend their client or prosecute them. 
Miriam Arichea, the mock trial advisor, said, "My favorite part was being back in the courthouse after two years of Zoom mock trial. Also, having Melinda Johnson as our judge in round three, who was the first woman appointed as a Ventura County Superior Court judge."
Arichea said, "What surprised me the most is that we won the second day's [Tuesday's] first trial, despite having two people [one witness and one attorney] fall ill between Monday night's competition and Tuesday day. I imagine our scores would have been through the roof if we had those two people in that trial… I think we were prepared, especially because I had the help of three attorney coaches, two deputy district attorneys and one public defender, all of whom I've worked with in my job as a deputy district attorney."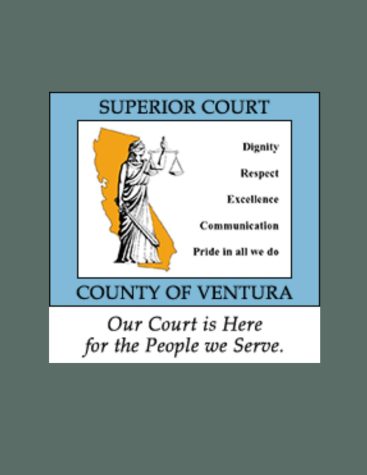 Arichea is a graduate of Duke University, where she got her Juris Doctor degree. Prior to the competition, she assisted her students every Monday and Wednesday for two hours, where they formulated their claims and prepare their witnesses. 
Arichea said, "The most difficult part for my students is having to react to the different schools' questions or objections, which sometimes are completely unexpected or even bizarre. It's almost like doing improv except that it's not a comedy."