Cougar critique: "Layla" by Colleen Hoover
A novel that shows life and love after tragedy
No. 1 New York Times bestselling author Colleen Hoover came out with the book "Layla" in December of 2020. The book begins when Leeds meets Layla. It's love at first sight, and Leeds immediately knows he has to spend the rest of his life with Layla.
Soon into the relationship between Leeds and Layla, Layla is attacked. She's left with severe brain damage and is no longer herself. She doesn't remember parts of her life, which means that she also can't remember parts of her relationship with Leeds. This leaves Leeds feeling empty, making him question whether this is the same Layla he originally fell in love with.
Leeds knows he needs to figure something out. He needs to do something that will make Layla remember exactly how happy she once was. So he decides to surprise Layla with something special, a trip to the bed and breakfast they first met at. However, when Leeds tells Layla about the trip, she can barely remember why the place was once important to her.
Once the pair arrives at the bed and breakfast, something immediately seems off. Layla starts acting strange. She begins blacking in and out of conversations. Leeds isn't much better, as he starts seeing things move throughout the house and hearing things as well. 
This all comes to a stop suddenly after Leeds meets a girl named Willow. Leeds spends many late nights talking to Willow, and he finally feels peaceful for the first time since Layla's accident. 
The book "Layla" blends mystery, romance and the paranormal all together. Like many of  Colleen Hoover's other books, this one is hard to put down. This is the perfect story of love and pain.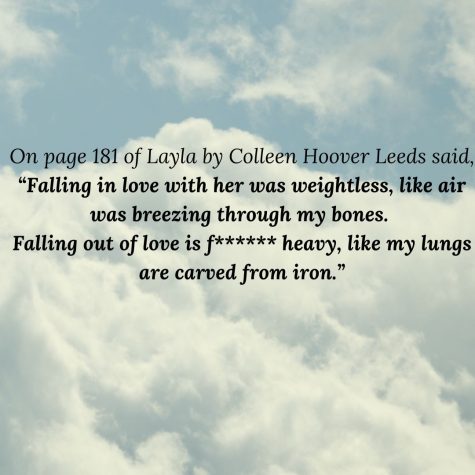 The relationship between Layla and Leeds is quick to face one of the ultimate tests of love. When Layla gets injured, Leeds has to go from her carefree lover to her full-time caretaker. Things never really go back to the way they were, but Leeds stays hopeful for their relationship. Unfortunately, his heart is officially shattered when Layla's behavior at the bed and breakfast becomes more and more out of place. As Leeds pushes Layla farther away he gets more and more attached to another one of the bed and breakfast guests, Willow. As Leeds gets closer to Willow, the ultimate question arises as to whether he will stay with Layla or leave her for his newfound love interest.
This book was unlike anything I've read in the past. It's especially different from Colleen Hoover's other books. I'm not sure if I'd love to recommend this book to anyone. However, the book did keep me entertained while reading.